---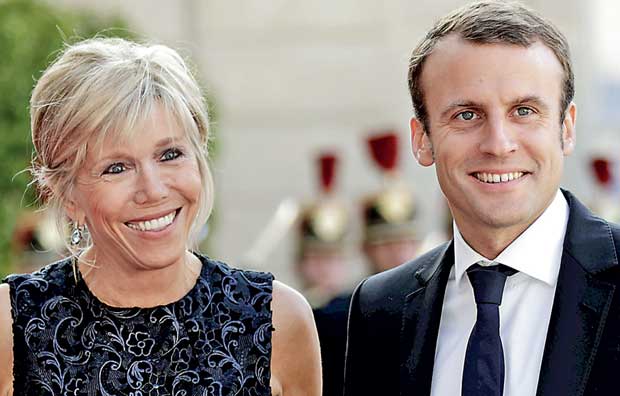 Emmanuel Macron and his wife Brigitte pictured at the Elysee Palace in Paris, France
"We don't have a classic family, that's an undeniable reality. There is no less love in our family." —Emmanuel Macron

Emmanuel Macron, the former Economic Minster won the race for French presidency by a considerable margin, a groundbreaking triumph that launches the political beginner's push to revamp France's economy and reverse a wave of nationalism prevalent in the European Union. The term 'macron' has a meaning— Webster says; A mark - placed over a vowel to show that the vowel is long.

Let's talk about Macron and his 'long vowel' in real life and political drama.
Macron, with his blue eyes and bright smile, hand in hand with his loving wife and close advisor, Brigitte Trogneux will walk into Élysée Palace, the 18th century presidential residence in Paris in a few days. When Emmanuel met Brigitte at High school he was only 15, she was 24 years his senior and his teacher. Working together in producing dramas, two years later at 17 he vowed to marry the 41 year old teacher of speech and drama. "Without her, I wouldn't be me," Macron now 39 affirmed after winning the first round of voting in April, 2017. Trogneux, 64 with seven grandchildren has become France's first lady. Unlike in America, the spouses of French Presidents have customarily held no important roles in public affairs.

"He wants to give the idea that, if he was able to seduce a woman 24 years his senior and a mother-of-three children, in a small provincial town, without opprobrium and mockery, he can conquer France in the same way." --His biographer to BBC

Brigitte Trogneux Macron, the Drama Teacher
The 39 year-old Emmanuel Macron who took over as the twenty-fifth President of the French Republic, is the youngest French President who is known to be a free-trade centrist defeated his rival far-right nationalist Marine Le Pen. Macron, who has been criticized as being technocratic, theoretical and sometimes lacking in sympathy baffled crowds at rallies with his lofty proposals. Macron has never contested an election before. He was trained in privileged French academies to become a top class civil administrator, but changed to a career in investment banking with Rothschild & Cie., at the peak of the financial catastrophe.

Will the world wake up to welcome the sight of Macron, and the 64 year-old Brigitte Macron who's daughter from her first marriage was in the same class with her second husband at their school in Amiens in northern France. Certainly, the defeating of anti-immigrant, Putin-loving Marine Le Pen from the Presidential stakes for the control of the world's third largest nuclear arsenal would be a welcome move. Brigitte Trogneux divorced the first husband to be with Macron, and they have ahead of them all the makings of a few classic real-life political drama.

Gap of 24 years between the pair, the same as that between Donald and Melania Trump
"It's because she is 24 years older than me that lots of people say, 'This can't be tenable, it can't be promising. If I had been 24 years older than my wife, nobody would have thought for a single second that I couldn't be an intimate partner," he said this in response to speculations about his sexuality and what he illustrated as "parallel lives" the media had attached to him. They stimulated the interest of the French print media. Giving an interview to a leading newspaper in Paris last year, she let some light on the early days of their courtship when she said, "Emmanuel was only 17 when he said to me: 'Whatever happens, I will marry you!'"Trogneux left her husband and began a relationship with her former pupil, finally marrying him in 2007.

Unlike the 46-year-old Slovenia-born America's first lady Melania Trump, who shun publicity or white house life with her husband Donald 71, the billionaire, who in a remarkable co-incidence is 24 years her senior, speculation rife that Brigitte Macron will go against tradition and accept an official position as First Lady, in government. "When you're chosen president, you give your days and nights, you give your private life and your public life," Macron told media. In contrast with her precursors she will run an office. "The person who lives with you must have a responsibility and be acknowledged in that role, with no emoluments" he said. Being a former teacher, Brigitte's main interests would be education and working for disadvantaged children. Macron's predecessor President François Hollande, whose term ended on May 14, 2017, assigned his wife/partner Valérie Trierweiler, a staff of five, at an annual cost of $265,000, whereas Nicolas Sarkozy, Former President's wife Carla Bruni had a team of advisers, costing taxpayers $ 489,000 a year.

Brigitte's eldest daughter, Laurence, is the same age as Macron. For years, they avoided the public eye, presumably aware that their unconventional marriage risked overshadowing Emmanuel's lofty political plans. But since launching his presidential bid last year, having previously served for two years as economics minister in Francois Hollande's unpopular socialist government, something has shifted. She told the press, "I have to pay attention to the whole thing, do the maximum to look after him. Every night we debrief jointly and we repeat what we have perceived about each other", Her three children, Sebastien, Laurence and Tiphaine, are having a close relationship with their stepfather and were seen campaigning for Macron bearing T-shirts; En Marche!

Mr. Macron, the 39-year-old former investment banker gained 65% of voters cast ballots. He has vowed to undertake controversial labour reforms as part of a push for larger economic convergence among the European Union's member states.

'Men want a woman who is grounded, confident and mature -- but they often can't find that in their own age bracket. On the flip side, women want a man who is ambitious, attentive and attractive. Given those variables, it's only logical that the older woman-younger man relationship can actually work.'-Anon