---
'The book of joy'
Lasting Happiness in a Changing World
His Holiness The Dalai Lama and Archbishop Desmond Tutu with Douglas Abrams
Hutchinson, London, UK. 2016. 599.00 (1,795.00)

As students we were advised to read autobiographies and biographies. Hence my reading of this very valuable book gifted to me by a very good friend recently.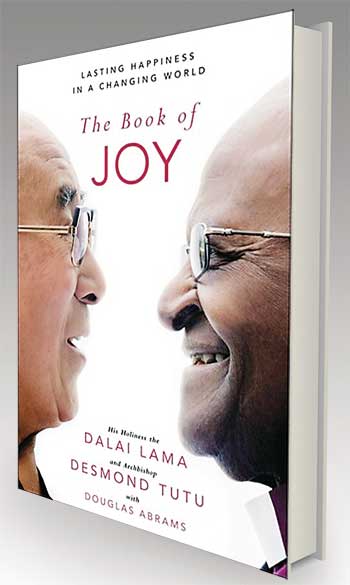 In this book, the author, in the context of a dialogue conducts a discussion on the subjects of joy and peace.
This book has an introduction presented in the context of the Archbishop's visit to celebrate the special birthday of Dalai Lama, where a discussion takes place.
The Dalai Lama is a refuge in India in the context of the Sino-Tibetan conflict.
The Archbishop, has a sense of victory and triumph having survived the horrible apartheid in South Africa.
The Dalai Lama says, "the ultimate source of happiness is within us". The Archbishop says "We grow in kindness when our kindness is tested".
When Nelson Mandela invited the Archbishop to chair the 'Truth and Reconciliation Commission', the Archbishop produced a report in which the theme is 'No future, no life without Forgiveness'.
Thereafter the BBC invited the Archbishop to get involved in the Peace Process in
Northern Ireland.
Several years ago Pope John Paul the 2nd had a Congress of Religions at which the then Dalai Lama was present.
Having read this valuable book, I am of the opinion that all of us interested in Joy and Peace should read this. Happy reading!

Sydney Knight