---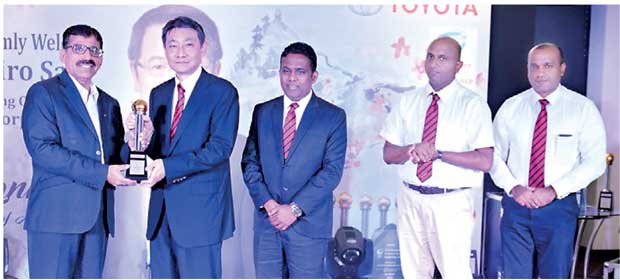 Toyota Motors Asia Pacific Executive Vice President Mahesh Salkar presents Customer Service Excellence Award to Toyota Lanka Managing Director Shungo Yoshioka, Toyota Lanka Director/CEO Manohara Atukorala, General Manager Service Mathisha Samaranayake and Manager Spare Parts Vipul Bandara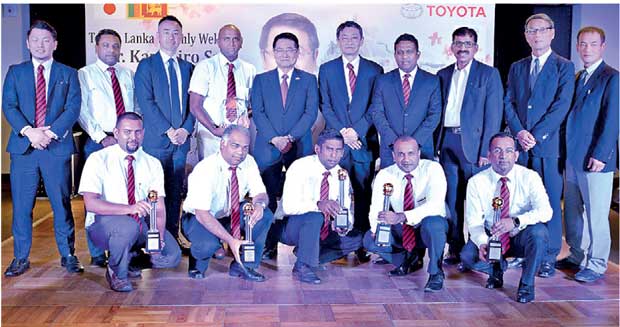 Toyota Lanka (Private) Limited, the sole authorized distributor for Toyota vehicles in Sri Lanka, has been awarded the first-ever Outstanding Customer Service Leadership.
The award was presented by Toyota Motor Corporation General Manager Yoshitaka Nakamura, Toyota Motor Corporation Senior Managing Officer Kazuhirio Sato, Toyota Motors Asia Pacific Executive Vice President Mahesh Salkar, Toyota Tsusho Asia Pacific Pte Ltd General Manager Yasuhiro Miura and Toyota Tsusho Asia Pacific Pte Ltd Group Leader Toshiki Hiriano at a recently held awards ceremony at Cinnamon Grand Colombo.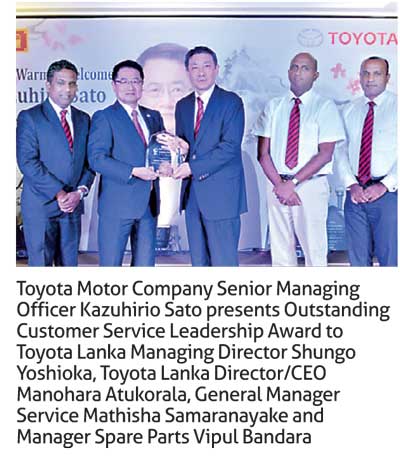 The Outstanding Customer Leadership Award is based on the Customer Service Excellence Award criteria followed by Toyota Motor Corporation (Japan). This is the first time a company has achieved 'The Leadership Award' for five consecutive achievements of the 'Outstanding Customer Service Award'. Toyota is known globally not only for its superior quality vehicles but also for its outstanding service levels that have enabled the company to win the hearts of millions of customers worldwide.
This particular award evaluates areas such as technical service skills, parts supply operation enhancement, value chain enhancement, customer service improvements and operations kaizen enhancements within the operations in Sri Lanka. Toyota Lanka's after-sales service operation and overall customer service competency were evaluated stringently by a panel of elite specialists. Toyota's objective through this award is to develop strong dealers that are capable of sustaining true competitiveness and enhance overall customer
service competency.
Toyota Lanka first began global recognition for outstanding service levels with a Bronze award in 2008 and 2009. With continuous improvements (Kaizen) in local operations, Silver awards followed in 2010 and 2011. Since 2012, Toyota Lanka has received the Gold award for five consecutive years.
Speaking on this significant achievement and success story, Toyota Lanka Managing Director Shungo Yoshioka said, "Toyota Lanka is indeed proud to be recognized among Toyota Motor Cooperation's global operations as a leader in customer service operations. This is not only an achievement for Toyota Lanka but is also an achievement for Sri Lanka. This is a result of all our department teams' tireless effort into providing each customer quality service by implementing a customer
first approach."
Taking into consideration the five consecutive Gold awards, the Outstanding Customer Service Leadership Award is a significant milestone in the history of Toyota Lanka and Toyota Tsusho Corporation.