---
Man has always been a traveler, exploring the ends of the earth since time began.
But travel really took off with the advent of the invention of the first horseless car in the United States of America. Since then countries like the United Kingdom, Japan, China, Germany, Malaysia and India have made great strides in making transportation a lot easier globally.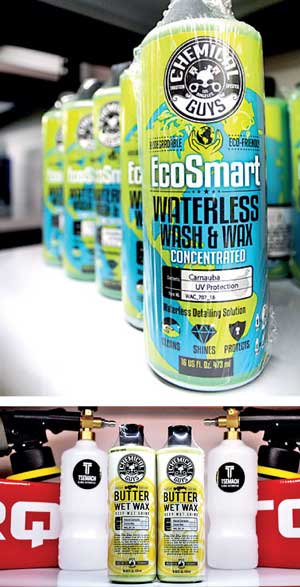 The US has remained in the forefront of global vehicle production and sales, and thus also created the need for vehicle accessories and other by-products to the vehicle industry. One of the most sought after of such by-products today is auto detailing supplies that have advanced with the times and become a large stand-alone market.
Across the US, the number of auto detailing suppliers is vast but the name Chemical Guys has come to be recognized above the rest.
Thousands of miles away in the sunny island of Sri Lanka, a few car enthusiasts and fanatics knew of and understood the high-quality and performance of Chemical Guys products and their global recognition. One such enthusiast was Ayesh Wickramasinghe who through his own love for vehicle detailing came across Chemical Guys. And earlier this year Ayesh opened Tsemach Global, the exclusive dealership for Chemical Guys in Sri Lanka. The futuristic store is located at Gregory's Road, Colombo 07 and houses a wide range of car care products such as shampoos, dressings, waxes, glazes, sealants and many more.
One of the special factors that place Chemical Guys a cut above the rest is the concentration of most of their products. Many of the products can be diluted with water which means you get more with every purchase.
One of the innovative products introduced by Chemical Guys is the EcoSmart Waterless Wash and Wax. A product of this nature has not been seen in Sri Lanka before as we are traditionally used to waterless washing, but this product takes it a step further with waterless washing and waxing. The product is ideal for those who do not have access to buckets of water or a hose like those who live in apartment complexes. This eco-friendly alternative is an easy to use method, simply spray, wipe and buff minimizing swirls and scratches on the paint work. The three-in-one solution not only cleans, but also shines and protects your vehicle.