---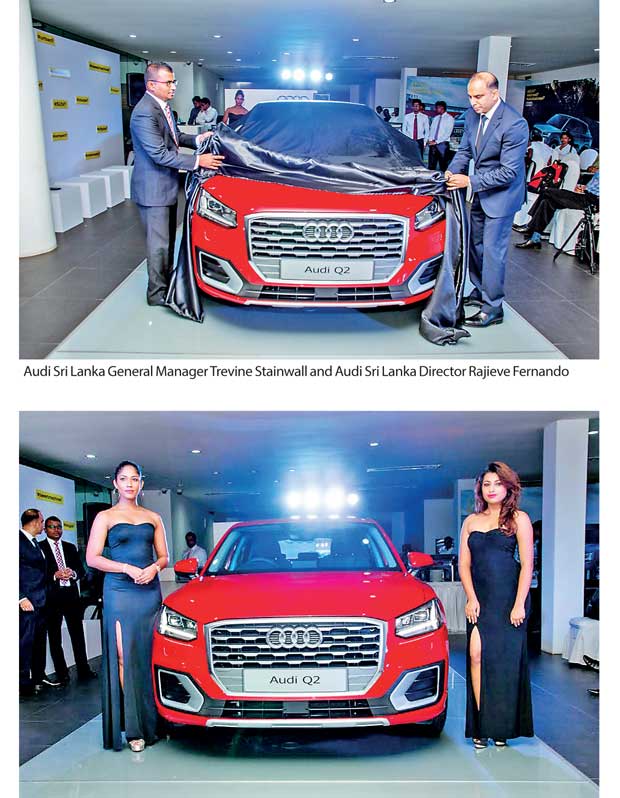 The German luxury car brand Audi has now introduced the latest addition to its premium range of sports utility vehicles, the all-new Audi Q2 SUV.
Armed with innovative technology and a new impressive style, the Audi showroom (Colombo) is offering the Q2 at a special introductory price of Rs.9.5 million.
Powerful, dynamic and radiating an undeniable presence, the Audi Q2 is a progressive combo that features sleek lines, a high level of functionality and the ability to handle any type of terrain. Ideal for both off-road adventure and everyday driving in the big city, the SUV is sharp, edgy and sporty with a low roofline and high windows.
Its beautiful design is especially evident when its low roof descends to merge with the C-pillars colour offset blades, thereby accentuating the sportiness of the Q2.
Comfortably seating five people, the interior of the Audi Q2 is spacious and comfortable, following the same angular lines of the exterior. The driver's seat is positioned in a similar fashion to a sports vehicle with the 'all-round visibility' typical of a SUV. The luggage compartment has a 405 litre cargo capacity that can be increased to 1,050 litres (by folding the rear seat) to accommodate larger storage needs.
Outfitted with innovative 'technology and designed with a lightweight, well sprung body to make it capable of greater thrust, the Audi Q2 is highly fuel efficient with a turbocharged engine and newly developed seven-speed automatic dual-clutch transmission that lets you change gears at lightning speed. It also has 'progressive steering'.
Speaking at the unveiling of the Audi Q2, Audi Sri Lanka Director Rajieve Fernando said, "The Audi Q2 is sporty, youthful, stylish and impossible to categorize. It's an all-rounder. It has a well-designed exterior and interior, a powerful, efficient engine, ample boot space and leg room and is ideal for everyday driving and recreational purposes. It can even be described as a state-of-the-art fashion statement that facilitates the active lifestyles of working professionals and family-men. It's currently being offered at a special introductory price for customers who want an urban vehicle with character and wish to experience German automotive luxury."
For more information on the new Audi Q2, contact Audi Sri Lanka or visit its showroom located at No. 3, R.A. De Mel Mawatha, Colombo 5.
The Audi group, with its brands Audi, Ducati and Lamborghini, is one of the most successful manufacturers of automobiles and motorcycles in the premium segment. It is present in more than 100 markets worldwide.
In 2015, the Audi group delivered to customers approximately 1.8 million automobiles of the Audi brand, 3,245 sports cars of the Lamborghini brand and about 54,800 motorcycles of the Ducati brand. Audi focuses on new products and sustainable technologies for the future
of mobility.