---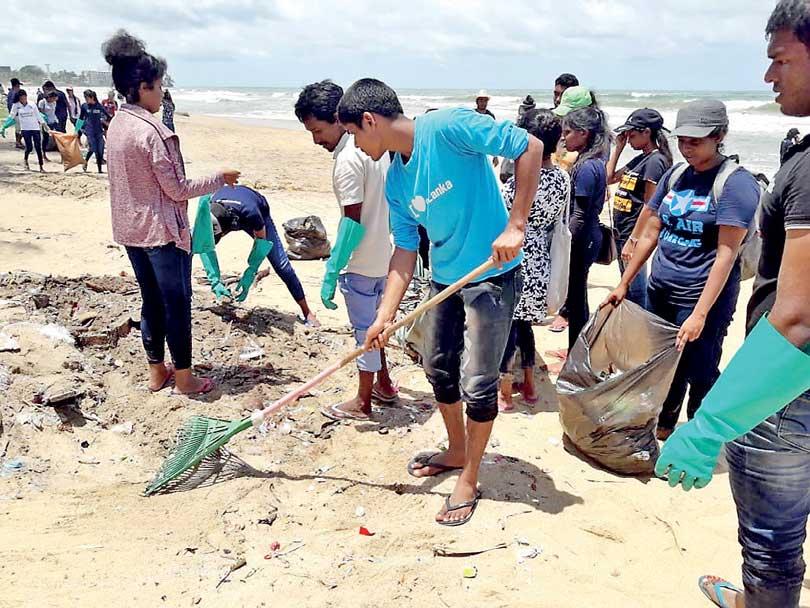 By H.M.Dharmapala and Kusal Chamath
Dehiwala Mount Lavinia Municipal Council with the help of the students of the of the Colombo University Arts Faculty launched an environmental promotion programme to clean the Dehiwala – Mount Lavinia beach through "Shramadana" The programme named "Surakimu Soba Sayuru" ( Let's Protect the Natural Beauty of the Sea) was a concept of the Deputy Municipal Commissioner Mr. Lochana Balasuriya.

The university students said the Dehiwala – Mount Lavinia beach which was rich in tourism potentials bringing a vast income to the country and to a host of private sector institutions had turned into an eyesore due to haphazard disposal of garbage. They pointed out that Mount Lavinia beach had been popular among tourists since long for its natural beauty, but unauthorized erections and haphazard disposal of garbage resulted in extensive environmental pollution in the beach.

Chief Medical Officer of Health Dr. Indika Ellawala said several tractor loads of solid waste including plastic bottles, empty beer cans, ice cream containers, yogurt cups, polythene and left over food disposed by the tourist were collected and removed.

Dr. Ellawala said solid waste disposed off by the tourists, tourist hotels and restaurants and the residents of the area flowed down the waste water canals into the sea and lashed ashore by the waves. He pointed out that garbage and waste matter including lubricants removed by ships sailing in the deep sea caused extensive marine pollution.

Area PHI Shehan Rajapakse said the Shramadana campaign was organised on the instructions of Deputy Municipal Commissioner Mrs. Lochana Balasuriya and CMOH Dr. Ellawala in view of the public complaints regarding the ongoing environmental pollution caused by haphazard disposal of garbage. He said more than 100 students of the Colombo University Arts Faculty participated. However he said several civil society organizations, schoolchildren and environmental organizations cleaned the beach through Shramadana at times but it turned into a futile exercise for want of cooperation of the tourists and the residents of the area.

The programme was implemented under the supervisions of Dr. Ellawala, Public Health Inspectors Shehan Rajapakse, and G.S.Chandana.