---
By Lahiru Pothmulla
SLPP presidential candidate Gotabaya Rajapaksa yesterday said, based on the votes secured by their allies at the last local government election, they come to the presidential election fray with 56% of votes in hand.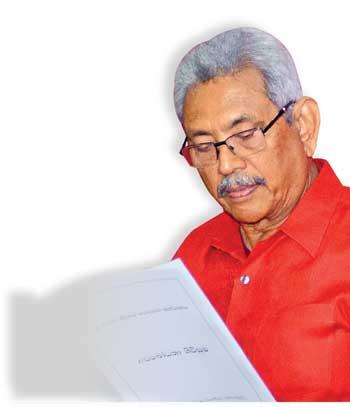 Speaking at the agreement signing ceremony of the Sri Lanka People's Freedom Alliance in Colombo yesterday, Mr. Rajapaksa said the people have already decided who would become the next President of Sri Lanka.

"We have 17 parties with us today to form the Sri Lanka People's Freedom Alliance. When we look at the votes all of us have secured at the last local government election, we come with 56% votes already in hand to the presidential election. All have decided who will be the President," he said.

He said a collection of parties with different views and opinions have come together to strive for one objective and to work in unison for the presidential election as well.

Mr. Rajapaksa said his election manifesto included practical solutions to all pressing issues in the country and said he was optimistic that these issues could be resolved under his tenure of presidency with the support of all parties.

"After a presidential election victory, we should brace ourselves for a general election. Your cooperation at a general election is of paramount importance to form a stable and a strong government which can face challenges fearlessly and solve plights of the people," he said.

He said they have already faced many challenges successfully in the past and overcame them. "We can win the challenge of creating a prosperous country after putting an end to poverty," Mr. Rajapaksa said.