---
What more would you want to choose for your bride-to-be for her wedding, going away or the home coming? And, if you are that wise parent, seeking a gift of real value for your beloved daughter or the groom's mother, looking for a distinguishing welcome gift for your new family member, Vogue Tusker Bridal Collection offers endless choices beyond mere
bridal jewellery.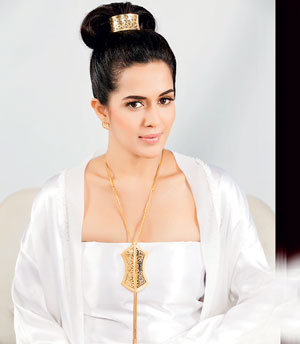 Among these majestic jewellery are grand necklaces, chain-type necklaces and thickset bangles, encrusted with the finest quality genuine diamonds and the more affordable cubic zirconia, giving you endless choices in selection and the ability to match and wear them throughout your lifetime. In addition to the great choice in designs and settings, they come in a range of sizes and weights, giving more flexibility to select not only your choicest design, the right item to suit your specific budget.
These grand necklaces, cascading chains and necklaces as well as sturdy bangles have been meticulously designed and intricately handcrafted. Designs comprising delicate cutwork, filigree, motifs and many more in sleek, glossy gold, juxtaposed with matt finished gold and also the classics in plain sleek gold include this collection. Each item of this unique collection comes with a 22 karat gold quarter sovereign coin with Vogue Tusker Collection engraving, adding more stature and value to the item. Additionally, Vogue can customise your bridal jewellery with inscription of initials, names, dates and phrases chosen by you.
Each item of the Vogue Tusker Collection is truly unique by design and majestic in their image. They are all designed with true Sri Lankan values in mind and handcrafted using the finest quality 22 karat gold. They are all carefully scrutinized to ensure a lifetime guarantee. They are so versatile as they can be matched with endless costumes way after your wedding day and handed down to your next generation
with confidence.
The novel jewellery concepts by Vogue Jewellers - renowned as "The Bridal Jeweller to Sri Lankans" - are not based only on fashion trends. A great deal of thought has gone into conceptualisation of this truly unique collection inspired by the majestic Tusker. The extensive experience and customer insights Vogue Jewellers has gained over 50 years, creating the most outstanding bridal jewellery that have won the trust and the confidence of generation after generation have inspired to create them to offer unmatched value and for brides of
Sri Lanka.
The importance of considering solid gold bridal jewellery of value, the prestige they bring to both families, the contentment and the financial stability they give you, the ability to hand down to the next of kin and add to the family heirloom are true Sri Lankan values associated with bridal jewellery.
As Sri Lanka's most awarded jeweller, Vogue Jewellers is renowned for excellence in innovation, craftsmanship, quality and customer service. The highest manufacturing standards maintained at Vogue Jewellers has created history by becoming the world's first jewellery manufacturer to be ISO 9001:2015 certified, bringing much fame to
Sri Lanka.
Visit Vogue Jewellers showrooms situated in Colpetty, Nugegoda, Kandy City Centre, Negombo or Kurunegala to experience the unparalleled choices and distinguishing values of the majestic Vogue Tusker Bridal Collection.