---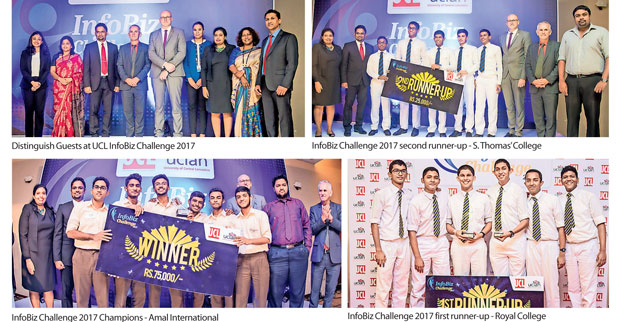 Recognising individual competencies and to develop entrepreneurship skills of the Sri Lankan youth, UCL took the forward march to initiate Inter-School Info-Biz Challenge Trophy '17 recently at Havelock City.
The proposed event was formed with a few game and challenge rounds to test the IQ levels, knowledge on current affairs, confidence as well as to enhance their team-working skills and develop the entrepreneurial skills to stand out as competent individuals in future.
Inviting 20 schools to take part and experience this uniquely designed competition Info-Biz Challenge '17, the event concluded by launching a new partnership with University of Central Lancashire, UK to offer full-time four years Degrees of BA (Hons) International Business and BSc (Hons) Software Engineering with a guaranteed internship year for all the undergraduates willing to take this path.
Amal International School emerged as the champions of the event by claiming the cash prize of Rs.70,000 and the winner's trophy of Info-Biz Challenge '17. Royal College, Colombo secured the first runner-up trophy and Rs.50,000 cash prize while S. Thomas' College, Mt. Lavinia won the second runner-up trophy and a cash prize of Rs.25,000.
Further Amal International emerged as the champions of the first challenge round 'Quiz Bee' and accordingly, Royal College and S. Thomas' College emerged as the winners of second Challenge 'Creative You' and the Final Challenge 'Entrepreneurial Showdown'.
UCL CEO Lasantha De Silva, UCL COO Nishani De Silva, UCL Dean Dr. Dhananjay Kulkarni, University of Central Lancashire UK Executive Director/Vice President International Strategy and Partnerships Tim Steele, British Council Sri Lanka Country Exams Manager Simon Creasy, British Council Sri Lanka Head of Business Development/UK Qualifications Deleepa Manawadu, British Council Sri Lanka Acting Manager/Higher Education and Education Services Nishika Hassim, British High Commission Sri Lanka Deputy Head/Trade and Investment Department for International Trade Ashanthi Fernando were among the distinguished guests to the event and faculty members, teachers from respective schools and the non-academic team graced the occasion.
Established with the vision of providing guaranteed pathways for Sri Lankan students to enter globally ranked top universities, UCL excels with its exclusive partnerships with Monash College Australia and University of Nottingham Malaysia Campus (UNMC).
UCL is located at No: 503, Sri Jayawardenapura Road,
Sri Jayawardenapura.