---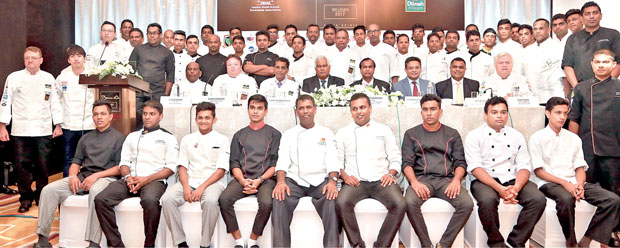 Paul Bocuse is an Icon in the Culinary World. He is highly respected and his cuisine has set new standards. In January 1987, Paul Bocuse created the Bocuse d'Or, a revolutionary gastronomy contest, giving young chefs a unique opportunity to demonstrate their skills, offering them a tremendous springboard for their careers.
From one competition to the next, its international influence has grown constantly. The idea: to bring together 24 young chefs from all over the world, among the most promising talents of their generation and have them prepare amazing dishes within an allotted time period, live in front of an enthusiastic audience. To decide between them: a jury composed of the most illustrious chefs of the planet.
Beyond a mere cooking contest, the Bocuse d'Or is a show that draws extraordinary media coverage. Many talented chefs have made a name for themselves thanks to the contest. Along with the successive creation of contests in Latin America, Asia, Europe, etc. Bocuse d'Or has become a showcase revealing outstanding talents and gastronomic trends from all over the world.
Beyond the competition itself, the Bocuse d'Or has created its own family: a global network of chefs, future celebrities and famous cooks and partner companies. They all share the same values of creativity, rigor and innovation, are committed to passing on their skills and have a passion for fine food and Art de Vivre. The Competition to select the Asian finalists will take place in the Asia Pacific region where 12 countries will participate and the top five countries will be invited to the global final in Lyon, France in January 2019.
This is the fourth time in the history of the event that Sri Lanka has been invited to participate. Spearheading the Bocuse d'Or Sri Lankan chapter is the culinary guru himself Rohan Fernandopulle together with an executive committee of some of the most renowned chefs in Sri Lanka.
Leading the frontier with such extraordinary strength within the culinary industry, team Sri Lanka participated in the Asia Pacific finals in April 2016 and was short of a few marks to be selected to participate in Lyon 2017. At the competition held in 2013, team Sri Lanka was selected to participate in the World Finals in Lyon, France, after being placed amongst the top four at the Asia Pacific competition. This year's competition will be conducted by Bocuse d'Or Sri Lanka together with Sri Lanka Tourism and CHSGA. In order to provide our chefs with appropriate training triple Bocuse d'Or winner Chef Eng Tong was especially flown in from Singapore for the pre-training programme held on May 23 at the SLITHM premises. Along with him, a Bocuse d'Or approved a renowned international and local jury was elected to ensure the high standards of the competition.
"With the high culinary standards it is important for Sri Lankans to benchmark the best of the best and step up to extraordinary culinary standards.
Our local chefs have an innate ability to create spectacular dishes and I believe with the correct training and guidance we have been able to provide them, Sri Lanka will soon be rubbing shoulders with the culinary giants of the world," Fernandopulle followed.
"Rallying behind us we have some great sponsors and partners who believe in our vision of culinary excellence and this wouldn't have been possible without them" Fernandopulle continued.
Starting with the main sponsor Dilmah and in partnership with CHGSA and SLITHM, Sri Lanka Tourism and other sponsors USMEF, Edingborough, Round Island, Pragmatic, Euro kitchen, Eoas, Nestle, Fonterra, CDC Events, Unilever Food Solutions, East West Sri Lankan Airlines, Connaissance, Queens work wear, Galle Face Hotel, Movenpick Hotel, Waters Edge, Captcha eye, Mas, Tnl, Litro and Beko have joined the programme.
The national selection for Bocuse d'Or Sri Lanka will be held on June 30, 2017 at the BMICH premises followed by a gala dinner and awards ceremony at Waters Edge where, team Sri Lanka will be awarded an opportunity of a lifetime to represent Sri Lanka in Bocuse d'Or Asia 2018.