---
Hameedia, Sri Lanka's leading menswear specialist, is participating in the 14th edition CFW Showcase, which commenced on March 15, 2017 and concludes today, at The Hilton Colombo.
Taking part in the ethical fashion category this year, Hameedia presents a collection that highlights its commitment to ethical fashion. Additionally, Hameedia shines a light on how its merchandise and clothing help to aid the 'My Friend' Project, which supports the needs of underprivileged children across the country.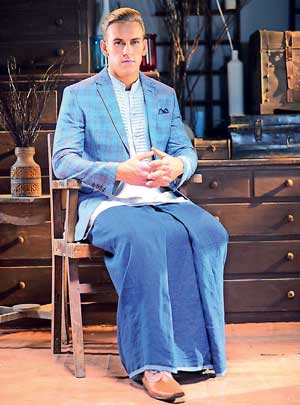 The collections include a range of casual and formal outfits that are made from pure cotton and linen. Linen and cotton are both natural fabrics that are milder on the skin and don't contain chemically altered fabrications.
All of the clothing featured on the runway and in Hameedia showrooms is created with a strict adherence to ethical practices. Protocols are put in place to reduce the wastage of energy, water and materials at every touch-point of the designing, sourcing and manufacturing processes.
Hameedia's collections at Colombo Fashion Week include a range of linen clothing such as sarongs, kurtas and jackets.
Commenting on Hameedia's participation in the show and its ongoing commitment to ethical fashion, Hameedia Managing Director Fouzul Hameed stated, "We are glad to participate in the 14th edition of Colombo Fashion Week, one of the most highly anticipated fashion showcases in the country.
Embracing ethical fashion and making it an integral part of our company, has always been important to us. Taking an ethical approach to fashion is challenging and does cost more, but at the end of the day, it is the right thing to do. When customers purchase anything from our collections, they can rest assured that our products are safe and don't harm people or the planet.
Our commitment to ethical fashion extends through the My Friend Foundation, Most of our outlets have a separate corner with My Friend merchandise, from which a good part of the proceeds are allocated directly to the foundation to help underprivileged children. From its inception back in 1949, Hameedia has cemented its place as the preferred menswear specialist with its world-class quality, custom tailoring and ready-made clothing. Hameedia is an equal opportunity employer and also strives to provide all employees with a fair and comfortable working environment.
The company also takes measures to ensure that its operation remains as environmentally friendly as possible. The company continues to make its presence felt locally and internationally with 25 outlets across Sri Lanka and stores in the Seychelles, Maldives and Australia, respectively.
Along with its own branded clothing and accessories which includes FH, Envoy, Le Bond, Signature, Hameedia also showcases Raymond, Lee and Adidas branded items.