---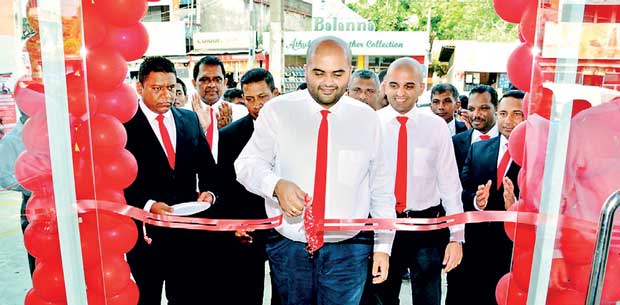 Chinese Dragon Café (Pvt.) Ltd, the leading Chinese restaurant in Sri Lanka, recently opened its eighth branch at No. 242, Seventh Milepost, High Level Road, Nugegoda.
The spacious new branch with great ambiance with conventional and newest Chinese cuisines will provide an unforgettable experience for people who yearn to sooth their taste buds.
The vision of Chinese Dragon Cafe is "to become the preferred dining experience where we operate". Starting with the Bambalapitiya branch, which is one of the oldest Chinese restaurants operating since 1942, for 75 years, Chinese Dragon Cafe expanded to its second branch in Mount Lavinia in 2007 and relaunched on Galle Road in December 2015.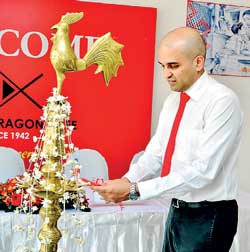 Its third branch was opened in Rajagiriya in June 2010, the fourth in the Central Business District, behind the Dutch Hospital Complex in April 2013, followed by its head office in Hendala in October 2012, then expanded its network with the fifth branch on Negombo Road, Wattala in July 2014. The sixth branch was opened in Pelawatta in July 2016 and the seventh branch in Nawala in October 2016.
Chinese Dragon Cafe serves its customers with the highest service quality weather it is a dine-in, takeaway, outdoor catering or delivery customers.
With an open ear to customers, critical feedback can be made by social media, email, call in or feedback forms and Chinese Dragon Cafe ensures that its team will get in touch with the customers. The customers can order their food online using their mobiles or through the web by visiting www.chinesedragoncafe.com, which supports online payments and cash-on-delivery.
Chinese Dragon Cafe has an active Facebook page with over 155,000 fans, which it uses as a communication tool to engage with its customers and ensure service levels are up to expectations. Chinese Dragon Cafe already has virtual tours for some of its branches using Google Street View so that its customers can see the facilities before they dine in to give them a 'Meal to remember'.
"The Nugegoda location was chosen following our successful Nawala branch opening earlier this year. The Nawala and Pelawatta branches are fully booked especially over the weekends. Hence, we hope to reduce the delays for our loyal customers in the area, who have given feedback on delays through social media, including Facebook and other sources.
The new location will help to cater to many of the offices on High Level Road, students around the location, residential and walk-in customers in the Nugegoda, Kirulapone, Wijerama, Maharagama and Pepiliyana areas," said Chinese Dragon Cafe (Pvt.) Ltd Managing Director Naishadh Udeshi.
The goal of Chinese Dragon Cafe is to provide customers with freshly prepared Chinese food at affordable prices, giving them a 'Meal to remember', which is its slogan. It offers customized Dragon packs and Dragon snacks starting from Rs.50 upwards, catering to all segments of customers.
Chinese Dragon Cafe offers an extensive menu with vegetarian choices, fresh juices with no added sugar, milkshakes and ice tea and other items that were added to its menu last year. Chinese Dragon Cafe delivers freshly prepared food within one hour. Chinese Dragon Cafe has implemented extensive training and development programmes to improve quality, quantity and speed for customer satisfaction and this area is going to be its future focus.
Its chilli paste is now also available to take home, in hygienically packed glass bottles, to continue the spicy experience at home or overseas. Chinese Dragon Cafe has the vegetarian chilli paste option as well. Chilli paste jars can be purchased from any Chinese Dragon Cafe branch or Keells Super and Arpico supermarkets around Colombo and suburbs.
"At Chinese Dragon Cafe, we are grateful to our employees for the hard work put into providing the best quality food and service, making us what we are today," said Udeshi.
Despite the challenges facing foreign and local competition, Chinese Dragon Cafe is working on training and development to improve service levels and quality of food served. Chinese Dragon Cafe is trying its best to be environmentally friendly as it has introduced new recyclable lunch sheets and bags and some of its outlets have water treatment plants where no waste water drainage is available.
Chinese Dragon Cafe provides many benefits to its employees including training, accommodation, career development, free meals, incentives and more, as it aims to be the best employer in the industry. Chinese Dragon Cafe's current employee strength is over 300 employees and every new branch setup gives employment to at least 30 more.
"We always look for bright, entrepreneurial, tech-savvy, customer-focused employees to grow our business together," said Udeshi.
Chinese Dragon Cafe believes in being fully compliant with the local laws and regulations; its pricing is competitive, while paying all government levies and taxes. Chinese Dragon Cafe is investing heavily in increasing the branch network to develop the Chinese Dragon Cafe brand as a Sri Lankan company.
Finally, "Keep in mind Chinese Dragon Cafe is... Meal to remember – Mataka hitina kamak," said Udeshi.