---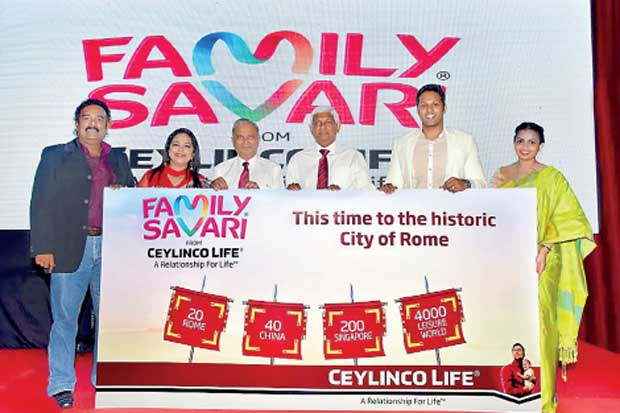 Ceylinco Life Managing Director R. Renganathan and Deputy CEO Thushara Ranasinghe (third and fourth from right) with the Family Savari brand ambassadors at the launch of Family Savari 11
The biggest has just got even bigger, with Ceylinco Life announcing that the beneficiaries of its 'Family Savari' mega promotion will almost double with the 2017 edition, the 11th in the series.

The dream destination for the grand prize in Family Savari 11 will be Rome, the company said, and 20 people from five policyholder families will win an all-expenses-paid holiday to the Eternal City in 2018.
Already the largest customer promotion by far in Sri Lanka's life insurance sector, the next Family Savari will benefit 4,260 people from 1,065 policyholder families, an increase of 2,000 over the 2,260 rewarded annually at previous Family Savari promotions.

Over the past five years, Ceylinco Life has presented winners of the grand prize at the Family Savari with holidays in Japan (2013), Paris (2014), Switzerland (2015) Germany (2016) and the UK (2017). In all, nearly 20,000 people have won overseas holidays or an excursion to the Leisure World theme park under this programme to date.

The second prize in Ceylinco Life's Family Savari 11 will be a holiday in China for 10 policyholders and their families. Another 50 policyholder families will be chosen for a holiday in Singapore and a further 1,000 families will spend a full day at Leisure World courtesy of Ceylinco Life. For the purpose of the promotion, a family comprises the policyholder, spouse and two children. "There is nothing remotely like Family Savari in terms of scale and customer engagement in the insurance industry," Ceylinco Life Director/Deputy CEO Thushara Ranasinghe said.

"It brings together people from all walks of life and every district of Sri Lanka, promotes family bonding and builds enduring affinity between policyholders and the company. Although it entails a substantial investment and an extremely complex logistical operation, it continues to have remarkable resonance with policyholders."

The promotion period for Family Savari 11 ends in December 2017. All active long-term Ceylinco Life policyholders, holders of Ceylinco Life Retirement Accounts (CRAs) and new policyholders who purchase a policy, pay three months' premium and keep their policies active are eligible to win these holidays. Depending on the size of their policies or the balances in their CRAs, some policyholders would be eligible to qualify for the draws for all four categories of prizes.

Emphasising the value of loyalty, policyholders will also receive one additional winning chance for every year they have been with Ceylinco Life, up to a maximum of 15 winning chances for those who have been active policyholders of the company. Additionally, policyholders who have paid a minimum of three premiums using direct payment methods (such as bank standing orders) will receive an additional winning chance.

A mid-promotion draw for Family Savari 10 is scheduled for November 2017 and the grand draw will take place in January 2018 to select winners, the company said.

Ceylinco Life's Family Savari programme is promoted by four brand ambassadors, the Sri Lankan actors Sriyantha Mendis, Sanjeewani Weerasinghe and Roshan Ranawana and his wife Kushlani who joins policyholders on their overseas holidays and local excursion.