---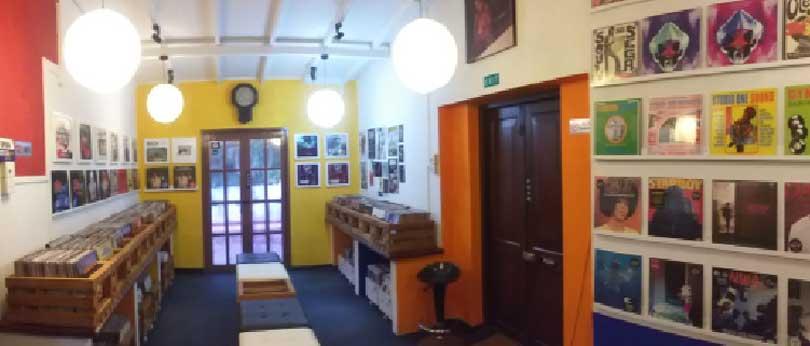 Breaking all assumptions and predictions of many people around the world, vinyl records still remain treasured collectibles and fast-selling in this twenty first century. This would be a surprise for the 80's people as there was a staggering decline in vinyl with the rise of compact discs in the market. Nevertheless, following the pattern of many things in history, vinyl records have faded with time only to gain popularity amongst music lovers once again.
The price of these records have remained steady over the past years and have also increased despite a majority of people digitally downloading music, thanks to vinyl collectors.

Why are vinyl collectors so passionate about records? Why are records making a comeback? Why have records been a collectors' choice? To answer all of these, we spoke to two noteworthy individuals Chinthaka Thenuwara a popular artist in our day, and Tareeq Musafer, a DJ who specializes in his mixes using only records, to explain to us the many reasons for this growing vinyl community in Sri Lanka.

Starting at a young age of thirteen, Chinthaka's love for vinyl began by repairing a beat-up turntable that was given by his father. "I was always intrigued by how fascinating this piece of plastic could produce such wonderful sounds. It was more than the technology behind it and the fiscal involvement that really got me going for it." For Tareeq however, it was by choice of career that led him to presently have a large variety of records. "Back in the 80s / 90s clubs were equipped with Turntable (Record Players) so as DJs we needed to have vinyl records to play. I still buy vinyl even though I don't DJ as much, so I guess now I'm a collector."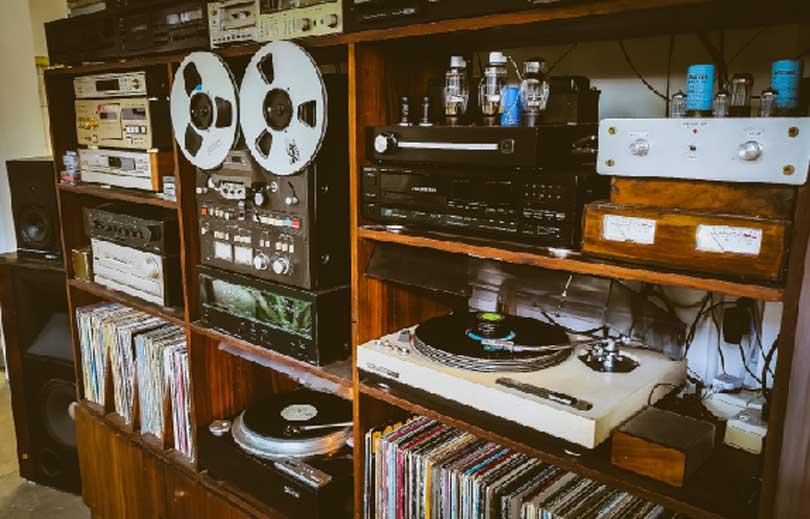 It is in no doubt that the world saw a decline in records with the aggressive marketing of Compact Discs known as CDs. With the changes in technology and as a solution for high quality products for consumers, the CDs took centre stage by giving consumers longer playing time and a few more extra songs that were not available in records. This combination made vinyl fade with time. During the late '90s, consumers were given the freedom of downloading music from the internet for free which subsequently led to less buying of music CDs. Overtime it was also learned that consumers were willing to pay for downloadable music hence Apple iTunes store and streaming websites such as Spotify came into play.

Amidst all these fast paced digital advancements, there was a steadfast set of consumers who cherished the ability to buy music and hold it in possession and enjoy the deeper, richer, warmer, and of more rounded sound quality of records. "The sound of vinyl records arises because the grooves on the record allow for an open, resonant quality. Vinyl is just more fun as a format than MP3s or CDs; there's something viscerally satisfying about dropping the needle, and physically spinning the record as listening to quality music" states Chinthaka.
Digital or streaming music is losing that physical connection which in my opinion, kind of devalues the music. I like the existence of vinyl because it keeps people involved with music when they might otherwise drift away..

It is surprising to see that present day vinyl collectors hunting for record labels that were made during their fathers' and grandfathers' era. There are numerous reasons for this and there's simply no 'one answer' that you can get. According to Chinthaka, "The output of a record player is analog. It can be fed directly to your amplifier with no conversion. This means that the waveforms from a vinyl recording can be much more accurate, and that can be heard in the richness of the sound." Vinyl made a massive comeback around 2008 and has been on the rise ever since. Tareeq believes this is due to "the fact that in this Digital age of everything being simple and too easily accessible, a tangible piece of music (on hard copy format), complete with a lyrics sheet, artist pictures, etc. that gives the listener more than just the experience of "Download & Play" could be the reason for the resurgence of Vinyl."


The debate about the improved sound quality of records against digital downloads and CDs has been in existence for decades. With the resurgence of vinyl records, is it actually the sound quality or is there a sentimental value that consumers hold on to with these records? "For the Die Hard Vinyl collector, its value is based on the Matrix. The Matrix is kind of a Unique Barcode that appears on the Dead Wax (Blank area) of a Vinyl record (close to the centre label). This matrix determines key information such as the pressing plant, the year of release, sometimes the recording studio or engineer etc. There are various tiers of valuing a record based on its Matrix" explains Tareeq. In Chinthaka's view, "digital or streaming music is losing that physical connection which in my opinion, kind of devalues the music. I like the existence of vinyl because it keeps people involved with music when they might otherwise drift away, especially the younger people whole didn't grow up with that experience of music that so many of us did. Putting more effort into things like music makes it that much more rewarding."
The demand for high-value vintage records is another factor discussed among vinyl collectors. "First Pressings (or the First Batch of Vinyl) of an Album usually fetch high prices. But it will also depend on how rare the pressing is or if very limited copies were made at the time" explains Tareeq. A certain Wu Tang Clan album fetched nearly $ 2million and a Beatles White album was sold for around $750,000. A lot of vinyl records coming out today are what are known as "Re-Issues". Basically they are new pressings (Re-productions) of the Old Record. They will have a standard retail price. "Another example is Pink Floyd's Darkside of the Moon 1st pressings and special edition album. These also can fetch high prices" says Chinthaka.
Joining in on our conversation is Hanzala Samat, a corporate figure by profession and an active member in Sri Lanka's vinyl community for his love for vinyl music. When asked about the vinyl community in Sri Lanka, Hanzala says that "the group is very much active on a daily basis with multiple interactions, news, images of types of vinyl all being shared. People are constantly sharing their collections where multiple buying and selling happens amongst the members." The group is said to have more than 200 members with whom they share all related content in the vinyl world.

"We have a strong admin in the group with a very clear policy that nothing is shared off topic. It's a very matured group with no disputes. It's a common ground for vinyl devotees to network." Hanzala further states that the group has been in existence for quite a number of years and has had formal dinners connecting all group members and giving the chance for further networking and discussing on vinyl collections. "The group works on recommendations, so if anyone is willing to set foot into the community, it would be through admin or member recommendations, just as any other whatsapp group" explains Hanzala. "To know that I have something very rare, in terms of records, which has been played by someone 30 years back and enjoyed it just as I did, has a very distinctive feel towards it. It's an art" says Hanzala.

Just as with any other collectors' item, there are no set rules on the kind of pieces of vinyl one collects and why they collect. The underlying common factor is music and the love of music is what unites this community. The key aspect however of vinyl collecting is that, these records can be played and enjoyed just as it's supposed to, and any other benefit that comes along with vinyl collecting is a definite bonus!