---
"I watched how people were stunned and stuck in awe when they saw Mahela and Sanga up close in real life"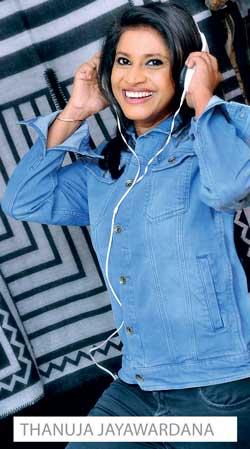 Concepts of television reality programmes are more often designed based on social trends that emerge from time to time. The theory behind this is the ultimate objective to woo audiences to live, feel and relate to the television reality experience. Taxi or cab services have today gripped the lives of people globally, so much so that successful television reality shows conceptualised with taxis have surfaced in many countries. In Sri Lanka, Cash Taxi is the very first television reality show in this genre. By now the country knows that Cash Taxi is the only cab that takes you on a free ride and also pays you, if you are wise enough.
This cab – CASH TAXI – randomly picks up unsuspecting customers who book a cab, and take them on an unforgettable journey during which they are peppered with some simple general knowledge questions. The host and driver (Madam !) of this Cash Taxi is none other than small screen's biggest brand name Thanuja Jayawardana who brings this novel TV experience on ITN every Saturday at 6 pm.

Adapted from a British original, this reality TV show on wheels has been structured to suit Sri Lankan audiences who have already embraced the programme wholeheartedly.
"This is a globally popular reality segment, but for Sri Lanka it is a new experience. Initially I was a bit hesitant when I was offered this task, but later I decided I should take it up. This is just like an actor taking up various characters to showcase his talents. I have donned various roles as a television presenter and host, but I must tell you this is a different experience and hectic one too," Thanuja told Daily Mirror Life Impulse.

How's the outdoor experience with 'Cash Taxi'?

There are times we get irritated with three wheeler drivers who give us a hard time on the roads, violating traffic rules. But after the very first episode of Cash Taxi I decided that I am not going to feel bad about three wheeler drivers because I experienced first hand how hard and arduous it is to manoeuvre Colombo city traffic in the sweltering heat. The job of a taxi driver is not an easy task. Cash Taxi made me realise it.

What's the speciality in this segment?

What upsets me most in this Cash Taxi segment is that, I have to drop the clients at any point when they fail to answer three questions I ask them. This is so embarrassing and hurtful but I can't help it because it is part of the programme's concept. But the best part is that passengers accept it in good spirit.

We saw cricket stars Mahela & Sangakkara also joining Cash Taxi?

Well, working with Mahela and Sangakkara was a wonderful experience in my career. I watched how people were stunned and stuck in awe when they saw Mahela and Sanga up close in real life. They even forget about the cash prizes they had won.

Any unforgettable experience?

Most people, excluding my close friends, are unaware that I am very poor in remembering roads. I may have driven through a road a 100 times but still I tend to forget them. Some of my close friends tease me saying I might take Cash Taxi passengers to some unknown destinations. I work with a caring and thoughtful Cash Taxi production team. There are times I take the right turn when the production van trailing me wants me to turn left. But they are so flexible, making life easy for me.
Text: Ramesh Uvais
---
THANUJA'S TAKE ON REALITY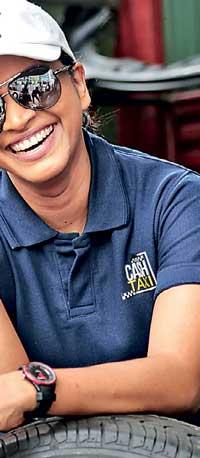 Your profession revolves around words that you speak?

Words are powerful, whether you write or speak as a journalist. You must ensure that you use words to bring happiness or a smile to people and not to hurt their sentiments or violate ethics. I am not aware of a media culture where you hurt hundreds just to please one. I trust, words must be used only to help or heal.

Not everyone is equal in society, but everyone deserves equal opportunity. I am sensitive to the incredible powers of nature around me. I use this sensitivity to control my life and develop my inner self. This spiritual power has helped me experience the connection with myself, with others and mother nature. I have kind of developed a truce with this reality, enhancing my inner intelligence and I acknowledge humanity from a spiritual perception.

If we need to develop ourselves as human beings and true Sri Lankans we should firstly develop our spiritual outlook. There is no purpose in treating just one cell in the system because it won't remedy the whole system.

Your take on today's social reality created by various factors?

As people we have virtually become mere helpless spectators of the unfolding fake social reality perspectives created by some media, governments that change from time to time, influential companies, religious groups, political groups, the new electronic and digital technology culture and the new people associated with it.

'Value' has virtually lost all its meaning and we are clueless about using our critical-thinking skills.

In these situations, I always opt to pause and take one step back because it does not augur well for humanity to collide with such colossal powers. But I always believe in nature's incredible power and influence.

That amazing power of understanding has to be honed by realising the power of our mind and the universal power. When I am hurt, I always realise how others
feel when they

are hurt, because I feel everyone only as mere human beings.

It all depends on your thoughts and how you look at things...

This quote is an ideal point to ponder.

"If you believe that your thoughts originate inside your brain, do you also believe that television shows are made inside your television set?"
Pix: Chandra Bandula, Eshan Shaila Wanigarathna
Costumes: Nilhan Seneviratne
Hair Stylist: Dave de Silva ((Serenity by Vindya)