---

Celebrating a partnership of 18 years with HSBC Colombo Fashion Week, Ramani Fernando Salons has continued to create stunning hair and makeup looks for the models at CFW.

Working over three days, Ramani Fernando and her team of over 25 staff worked tirelessly to create make up looks for over 30 models. Led by Ramani the team also contribute their own ideas for hair and make up looks. "The team is always very enthusiastic especially during Colombo Fashion Week. They really enjoy the buzz behind the scenes and also the camaraderie with the models and the CFW staff. I always make it a point to take staff from each branch so that what they learn at CFW can be taken back to the branches. Most of the senior staff are well versed with the protocols of working at fashion shows and for the juniors the learning and training they receive backstage is also valuable. They also learn to work efficiently as a team" said Ramani.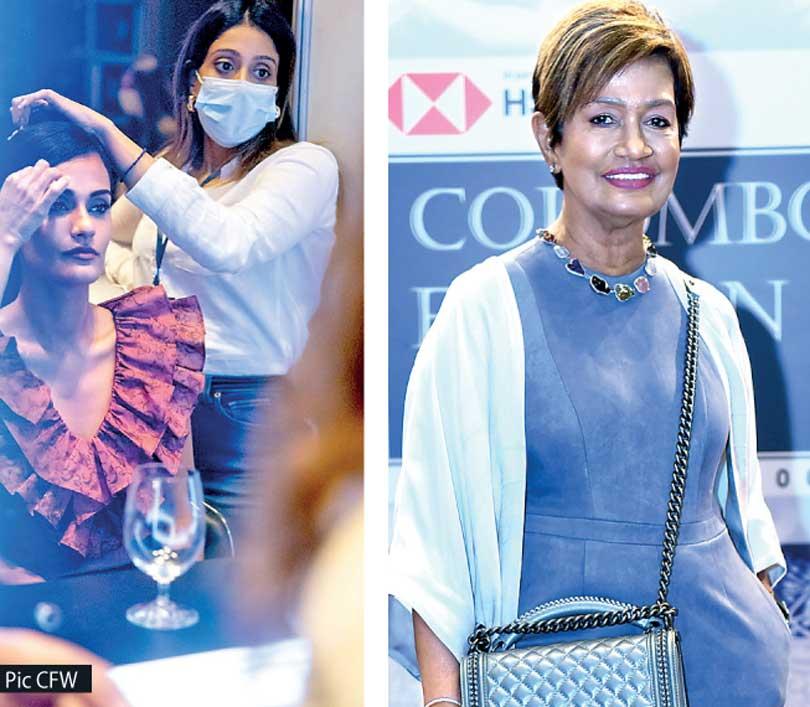 "The inspiration behind the looks for this season can be described as understated glamour. We enhanced the natural looks of the girls. On Day One we added Rhinestones on the eyelids to add a glam factor. We also used finger waving to bring some Hollywood glamour. Hair and make up was kept as simple as possible so that the focus would be on the clothes" she added. For Dilhara Muthumudali who has worked at Ramani Fernado salons for almost thirty years , CFW holds many fond memories of working backstage at CFW. " I look forward to CFW as it is fun to work with the models. We discuss the looks with Ramani and exchange our ideas and then finalise the hair and makeup. It can be very stressful trying to get over 30 models ready for the show, however, when you see the girls walk the runway sporting the looks we create, it makes me very proud to be a part of it all" she added.
Chalana Munasinghe, is also a seasoned hair and make up artist from Ramani Fernando's Elibank Road branch. He too has worked many times at CFW and is responsible for creating some of the many hair and make up looks that grace the runway. A real beauty buff, Chalana keeps abreast of the latest trends and style by scouring online sites and magazines.

" I like the buzz of working at CFW. It gives me an adrenalin rush to get the models ready on time and I must say I have really learnt to work under pressure by working backstage at CFW" said Chalana.

Much younger than the rest of the team, Chloe Perera says that working at CFW as part of the Ramani Fernando team is a good opportunity to gain experience. "I have been working backstage at CFW for a few years now during the shows and what I have learnt from the shows I always take back to the branch and share with my colleagues. This year I did corn rows for Ashanthi De Alwis who performed a song at CFW. It was such a cool experience" she added.

After three hectic days of creating hair and make up looks the Ramani Fernando Salons team look forward to taking a bow when they walk the ramp to rapturous applause from the audience many of whom truly appreciate their work.