---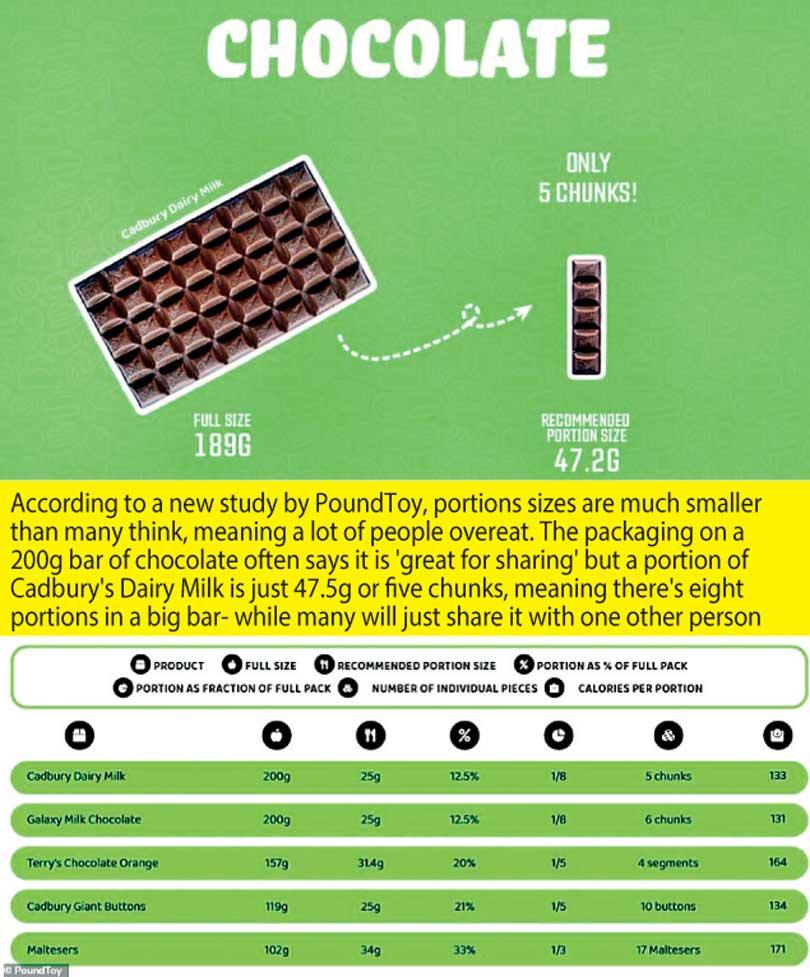 Even those trying to lose weight often enjoy a portion of sweets or crisps as a treat on a cheat day. But many people often misread the labels on food and drink products, and consume the whole bottle or packet, or most of it, because they're not clear what the recommended serving size really looks like. According to a new study by PoundToy, portions sizes are much smaller than many think, meaning a lot of people overeat.
CHOCOLATE
The packaging on a 200g bar of chocolate often says it is 'great for sharing', but a portion of Cadbury's Dairy Milk is just 47.5g for five chunks, meaning there's eight portions in a big bar- while many will just share it with one other person. If Smarties are your go-to choice, then count out just 16 of them to stick to the recommended portion.

CRISPS
Crisps are another treat that is ideal for sharing, but also very easy to overindulge in once you've opened the bag.
Many grab bags, often part as a supermarket meal deal, are up to two portions. In a normal-sized tube of Pringles, you should be sticking to 13 individual crisps, while in a sharing bag of Doritos, the recommended serving size is 16 crisps.

DRINKS
Full fat fizzy drinks are often full of calories and sugar, but you'd be mistaken for assuming that the individual 500ml bottles that you buy in the shops constitute serving. The recommended serving size is just 250ml, which is actually even less than a small can.

CEREAL
Many will be surprised at just how much unhealthy stuff is in a box of cereal, which is seen as a healthy breakfast by many. The recommended portion size for cereal is usually 30-40g - meaning each box contains around 20 portions.

daily mail