---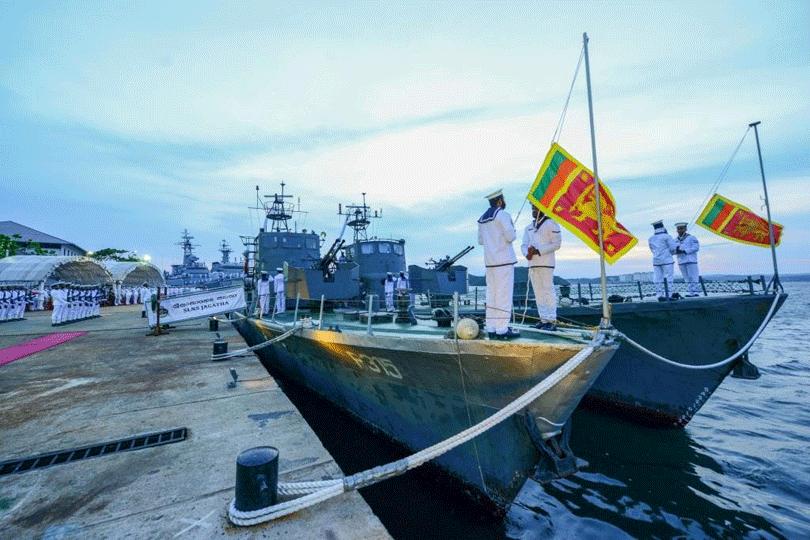 Commander of the Navy, Vice Admiral Nishantha Ulugetenne presided over the ceremonial decommissioning that had been organized with great pomp and circumstance to bid adieu to Sri Lanka Navy Ship (SLNS) 'Weeraya' and 'Jagatha' at the Naval Dockyard Trincomalee. The duo of ships of the 3rd Fast Gun Boat Squadron has rendered a priceless service to the Sri Lanka Navy for over four decades with a noble resolve to ensure the security of the Sri Lankan waters.
The commissioning of a naval ship into the service is done by authorizing it with a special commissioning warrant signed by the President. By the same token, the decommissioning procedure too demands a special approval of the President of the country. Consequently, the decommissioning of SLNS 'Weeraya' and 'Jagatha' was carried out with the seal of approval of the President Gotabaya Rajapaksa.
Way back in 1972, when Rear Admiral DV Hunter was the Commander of the Navy, one of the two ships waved farewell was commissioned into the naval fleet as Her Majesty's Ceylon Ship (HMCyS) 'Weeraya' and after the country becoming a republic she was renamed as SLNS 'Weeraya' to continue her service to the nation for about 48 years. Some 08 years later, when Rear Admiral AWH Perera at helm in the Sri Lanka Navy, the other ship was commissioned into the Sri Lanka Navy fleet in 1980 as SLNS 'Jagatha' and she too has been in active service about 04 decades, as she brought her journey to a standstill.