---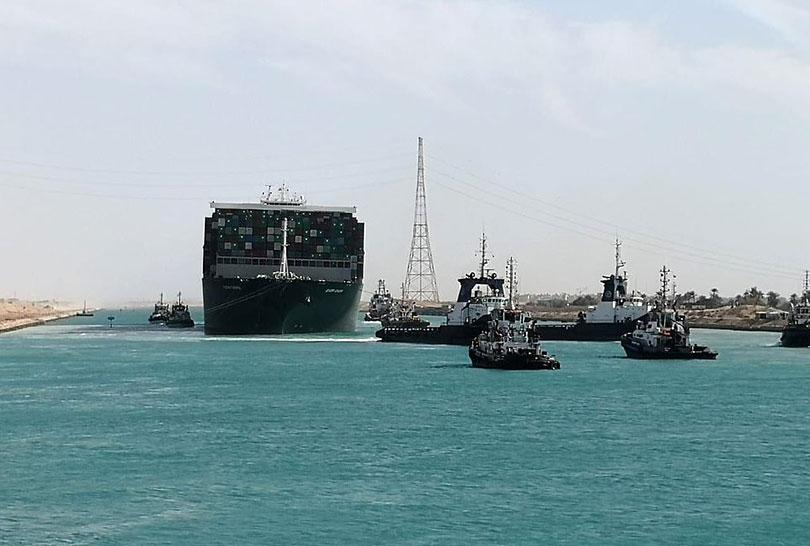 The first of hundreds of trapped ships snaked their way through a newly unblocked Suez Canal on Monday as the saga over the waterway seems to be coming to an end.
The bow of the 220,000-ton Ever Given container ship was finally dislodged from the channel's bank on Monday and towed up the waterway after tugboats had straightened the vessel in an early-morning operation and dredgers had vacuumed away large chunks of sand.
Vessels anchored for nearly a week began moving through the Suez Canal after a grounded mega-ship was unwedged, sparking relief in a country that depends heavily on the global trade artery.
Easing tailbacks to the north and south, 113 ships will navigate the narrow passage by 0600 GMT on Tuesday, Suez Canal Authority chief Osama Rabie told reporters in the evening.
He praised the duration of the salvage operation on the MV Ever Given as 'record-breaking', claiming it would have taken three months anywhere else in the world.
Canal services provider Leth Agencies said in a tweet that the 400-metre vessel had been 'safely escorted to Great Bitter Lake' by the authority, which noted it was now 'anchored' ahead of an investigation, beyond the path of other container ships.
'The relief is palpable that we won't see a long-term closure of what is an important trade route,' said market analyst Michael Hewson at CMC Markets UK.
In the hours before the ship was dislodged, the tailbacks had reached 425 vessels, and the canal authority estimates it will take over three days to end the congestion.
Maritime data company Lloyd's List said the blockage had held up an estimated $9.6 billion worth of cargo each day between Asia and Europe, as more than 10 percent of world trade normally passes through the canal.
The salvage team made a major breakthrough by dislodging the ship's stern and straightening its position, taking advantage of a high tide brought on by a 'supermoon' nearly a week after the traffic jam started, strangling global trade.
NASA's Landsat 8 satellite captured images of some of the vessels stuck on March 27, as hundreds of ships were left idling around the Suez Canal as engineers worked to dislodge a grounded vessel. (Daily Mail)