---
One of the top priorities of a Gotabaya Rajapaksa-led government would be to eliminate corruption and misappropriation in the public sector and as such, in the shortest possible time Arjuna Mahendran would be brought back to Sri Lanka from Singapore after November 16, General Secretary of the UPFA, Mahinda Amaraweera said yesterday.
Mr. Amaraweera noted that the new government would immediately start talks with the Singaporean Government to apprehend and deport the prime suspect of the Central Bank bond scam. Mahendran, based on the 21,000 pages charge sheet which was already dispatched to the Singapore authorities by Sri Lanka's Attorney General.
Asked as to how the SLFP-SLPP-led alliance would form a government without a majority in parliament, the former minister said he was confident that the alliance could raise not 113 but 120 in the 225-member parliament after winning the presidential poll.
Addressing the SLFP-SLPP joint news briefing at Rajagiriya, Mr. Amaraweera said the rights of public servants have always been protected by SLFP governments and public servants have obtained all their privileges, perks and facilities under SLFP government. The UNP government had harassed, assaulted and even killed public servants when in power, he said. He said all public servants, punished by the incumbent government on political grounds will be unconditionally pardoned and restored their rightful position and those who had lost their jobs will be reinstated.
Responding to a journalist, Mr. Amaraweera said if former Chief Minister of the Eastern Province, Sivanesathurai Chandrakanthan alias Pillayan, who is also the former LTTE commander of the Eastern Province, cannot be pardoned after leaving the terrorist outfit and choosing the democratic way of politics, the JVP also could not be pardoned.
"The TNA has also been in cahoots with the LTTE and now supports the UNP," he said.
Replying to another question, Mr. Amaraweera said the new government to be established after the Presidential poll would review the Millennium Challenge Corporation (MCC) agreement, and if necessary, amend the conditions if they are detrimental to Sri Lanka's interests.
He said the SLFP did not join the SLPP empty-handed, but with 1.5 million vote base and with that Gotabaya's victory was ensured and added another 200,000 votes could be expected from the estate sector and North, as Arumugam Thondaman-led CWC and Douglas Devananda-led EPDP had pledged their support to the SLPP. (Sandun A. Jayasekera)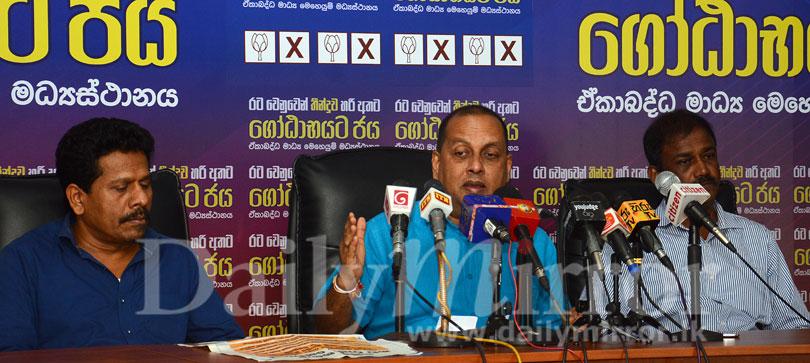 Pic by Gayan Amarasekara