---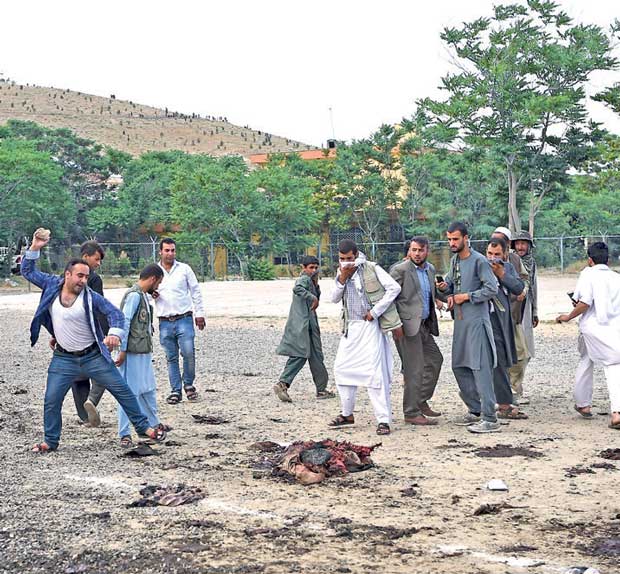 At least 15 Afghans were killed when three back-to-back explosions ripped through a funeral Saturday for one of the demonstrators killed during anti-government protests Friday, authorities said.

About 700 mourners at a hillside cemetery in the northern part of Kabul were in the middle of the funeral prayers for a prominent politician's son when three suicide bombers among the mourners detonated explosives, Abdullah Abdullah, the nation's chief executive, who was at the service, said at a news conference.

The blasts left body parts scattered among the dead, witnesses said. Around 80 people were injured, including some high-ranking Afghan officials. A spokesman for the Interior Ministry said that the death toll was 15, but it is expected to rise.

"People were standing to pray when the three blasts happened," said one of the mourners, Tahir Gardoon, a professor of political science at Khurshid University. "People were screaming, running, everywhere was fear."

Continued unrest could paralyze and further weaken Ghani's government, which is facing internal divisions and struggling to contain an aggressive Taliban insurgency and regional militants linked to the Islamic State, experts say.

The Taliban has denied responsibility for both Wednesday's truck bomb blast and Saturday's attack, but the government blames Wednesday's blast on the Haqqani network, seen as the operational wing of the Taliban.
-The Washington Post