---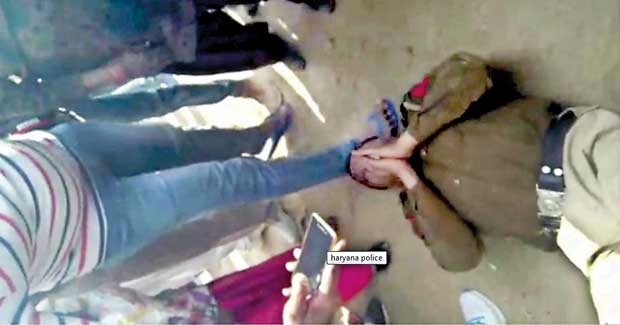 Rohtak, (Hindustan Times), 4 Feb
2018 - A video of women thrashing a drunk police official with shoes has been doing the rounds on social media, bringing more embarrassment for the Haryana police.

The video shows the policeman sitting on the road while a large group of people are seen encircling him and accusing him of 'harassing women' in a drunk state. The cop can be seen trying to explain himself, but is too intoxicated to present his point.

Soon, there is a call to thrash the cop after which the women start beating him up with shoes. The public is heard asking him to promise that he will never harass women again.

According to the Haryana Police, the incident happened on Friday, February 2, near Sector 4 in Hisar district and was captured on camera by a local. A police spokesperson for the Hisar Police said that the cop seen in the video has been identified as head constable Yogesh Kumar.

Police spokesperson, denied that the cop harassed any woman and attributed public outrage to 'mob mentality'.