---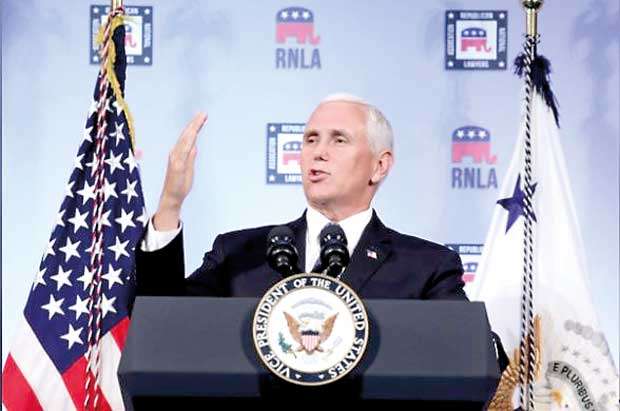 US Vice President Mike Pence, sharpening U.S. criticism of Chinese policies around the globe, will give China a blunt warning on Thursday that the United States will not back down from what Washington sees as Chinese intimidation in the South China Sea.

Pence will deliver an 11 a.m. address at the Hudson Institute think tank in Washington likely to increase tensions between the United States and China beyond trade disputes that have dominated President Donald Trump's time in office.

In excerpts of his speech seen by Reuters, Pence will call attention to an incident in which a destroyer, the USS Decatur, traveled within 12 nautical miles of Gaven and Johnson Reefs in the Spratly Islands on Sunday.

Pence will say a Chinese naval vessel came within 45 yards of the USS Decatur "as it conducted freedom-of-navigation operations in the South China Sea, forcing our ship to quickly maneuver to avoid collision."

"Despite such reckless harassment, the United States Navy will continue to fly, sail and operate wherever international law allows and our national interests demand. We will not be intimidated. We will not stand down," Pence will say.

The operation was the latest attempt to counter what Washington sees as Beijing's efforts to limit freedom of navigation in the strategic waters, where Chinese, Japanese and some Southeast Asian navies operate.

China's Defence Ministry said a Chinese naval ship had been sent to warn the U.S. vessel to leave and that Beijing had irrefutable sovereignty over the South China Sea islands and the waters around them.

Pence will also accuse the Chinese Communist Party of convincing three Latin American nations to sever ties with Taiwan and recognize China.WASHINGTON (Reuters), OCTOBER 4, 2018