---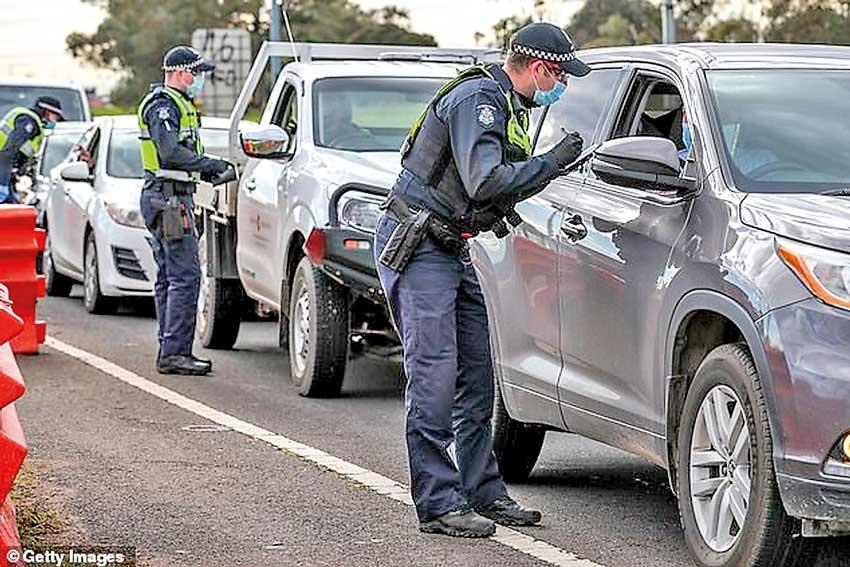 Police check permits and ID of drivers at a checkpoint in Little River (DM)
Victorian Premier Daniel Andrews has announced the State of Emergency will be in place for 18 months and lockdown restrictions will be extended beyond September.

This is despite the state recording its lowest rise in COVID-19 infections in seven weeks with 116 new cases and 15 additional deaths on Monday.

Mr Andrews said the state could not afford to lower the restrictions, and would extend the State of Emergency to 18 months in September, giving the government the power to impose further lockdown restrictions.

While the Public Health and Wellbeing Act 2008 only allows a State of Emergency to operate for six months, the premier said amendments are being made to change it.

Victorian Liberal MPs have accused Mr Andrews of 'loving power' and compared him to a dictator.

Housing spokesman Tim Smith said: 'Andrews is out of control. He's attempting to make himself a dictator, giving himself more power than any modern head of government has ever had.
'This is genuinely scary.'

Free market think tank the Institute of Public Affairs, Director of Policy, told Daily Mail Australia: 'Daniel Andrews has used emergency powers to put Victorians through the most stringent, cruel and ultimately unsuccessful lockdown measures anywhere.

'A long term extension to the state of emergency means long term unemployment, misery, and loss of basic freedoms and rights he said.
Australia, (Daily Mail), 24, August 2020
---
CORONAVIRUS CASES IN AUSTRALIA: 24,812
Victoria: 18,353
New South Wales: 3,985
Queensland: 1,105
Western Australia: 652
South Australia: 463
Tasmania: 230
Australian Capital Territory: 113
Northern Territory: 33
TOTAL CASES: 24,812
CURRENT ACTIVE CASES: 4,261
DEATHS: 502
Updated: 10.05am, 24 August, 2020