---

Dozens of cities in the US saw fiery clashes between police and protesters on Saturday night as the killing of George Floyd sparked massive unrest throughout the country.
In Minneapolis - where the African-American man died in police custody earlier this week - thousands of national guard soldiers were patrolling the streets and quickly cracked down on violent protests.

Outrage spread from the midwestern city to the entire country.

In Los Angeles, people looted trendy stores while a courthouse in Nashville, Tennessee, was set on fire.

The police department building in Ferguson, Missouri - the site of violent protests in 2014 after the shooting death of 18-year-old Michael Brown by a police officer - was damaged during protests.

In Jacksonville, Florida, an officer was stabbed in the neck and being treated in hospital, according to local news outlets, while three people were shot - one fatally - in
Indianapolis, Indiana.

In New York, video showed a police cruiser apparently ploughing through protesters who started to surround the vehicle and attack it.

"It's clear that a different element has come into play here who are trying to hurt police officers and trying to damage their vehicles," Mayor Bill de Blasio said in regards to
the incident.

President Donald Trump has taken a highly partisan tone calling for a tougher crackdown on protesters and accusing them of being "radical-left criminals."
Washington (dpa)
31 May 2020 -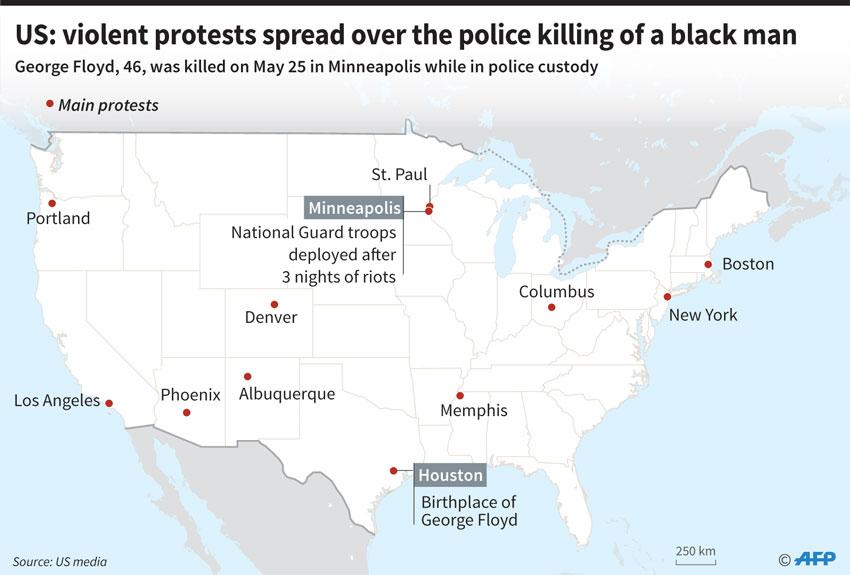 ---
Curfews and chaos: Race protests spread in US cities
US, (Courtesy South China Morning Post), 31 May 2020 -
Civil unrest flared and curfews were imposed in several major US cities as demonstrators took to the streets to vent outrage at the death of a black man shown on video gasping for breath as a white Minneapolis policeman knelt on his neck.

From Los Angeles to Miami to Chicago, protests marked by chants of "I can't breathe" – a rallying cry echoing the dying words of George Floyd – began peacefully before turning unruly as demonstrators blocked traffic, set fires and clashed with riot police, some firing tear gas and plastic bullets in an effort to
restore order.

An Associated Press tally of arrests found at least 1,383 people had been arrested in 17 US cities since Thursday. The actual number was likely higher as protests continued
Saturday night.