---

The United States started voting Tuesday in an election amounting to a referendum on Donald Trump's uniquely brash and bruising presidency, which Democratic opponent and frontrunner Joe Biden urged Americans to end, to restore "our democracy." The country is more divided and angry than at any time since the Vietnam War era of the 1970s --and fears that Trump could dispute the result of the election are only fueling those tensions.

Despite an often startlingly laid-back campaign, Biden, 77, leads in almost every opinion poll, buoyed by his consistent message that America needs to restore its "soul" and get new leadership in the midst of a coronavirus pandemic that has killed more than 231,000 people.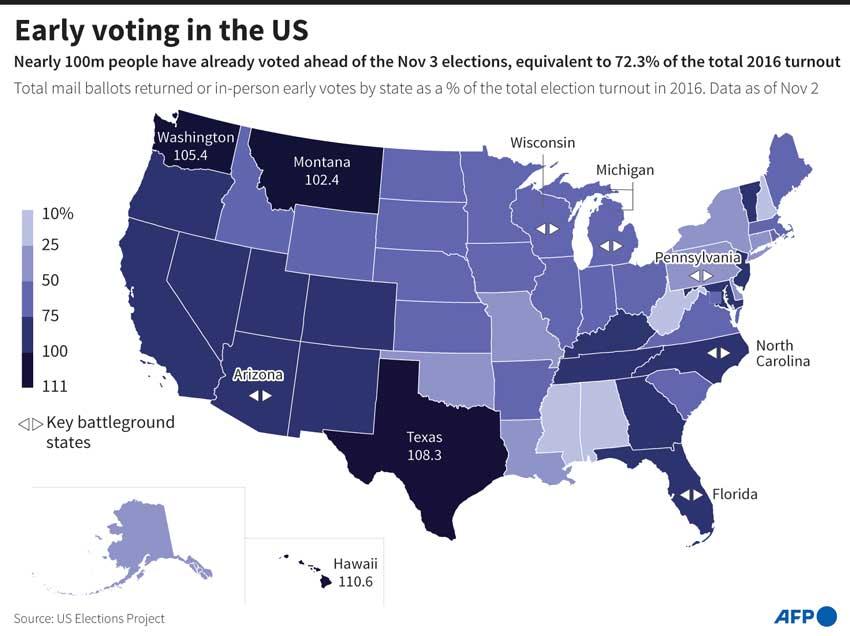 But, there are worries that if the election is close, extended legal chaos and perhaps violent unrest could ensue -- not least because Trump has spent months trying to sap public trust in the voting process in a nation already bitterly divided along political fault lines.

He ramped up these warnings in the final days. In a tweet flagged with a warning label by Twitter on Monday, he said this would "allow rampant and unchecked cheating." "It will also induce violence in the streets. Something must be done!" Trump tweeted.
WASHINGTON AFP
Nov3, 2020