---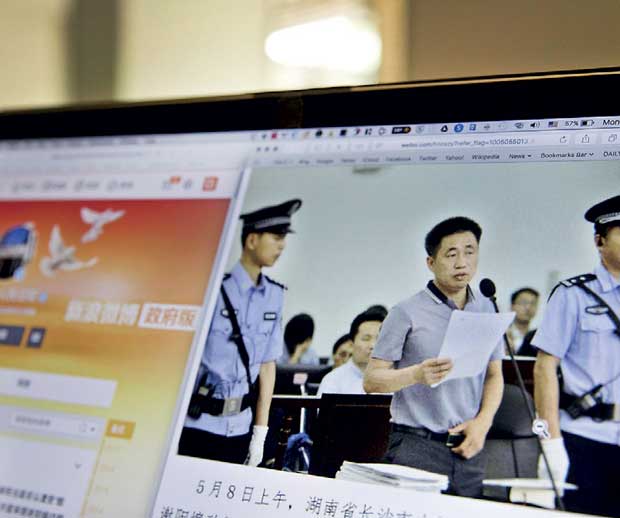 (c) 2017, The Washington Post · Simon Denyer · WORLD, ASIA-PACIFIC · May 08, 2017 - 11:55 PM
BEIJING -- The Trump administration has been criticized for downplaying human rights abuses in other countries, but when it comes to U.S. citizens in China, it may have chalked up a couple of unlikely victories.

Late last month, China convicted and then swiftly deported an American businesswoman who had been imprisoned here for two years on spying charges. A U.S.-based human rights group said the release of Phan Phan-Gillis, known as Sandy, came partly thanks to pressure from Secretary of State Rex Tillerson and the White House.

Now, a dramatic account has emerged of a rescue staged by U.S. diplomats in Thailand in March, snatching the wife of a prominent Chinese human rights lawyer and their two daughters out of the clutches of Chinese security agents and escorting them to safety in the United States. Their youngest daughter, 4 years old, was born in the United States.
"There are two reasons that the American government rescued us: The first is that my younger daughter is an American citizen," said Chen Giuqiu. "The second is that the U.S. supports human rights and justice, and my husband is a human rights lawyer."

Chen's husband, Xie Yang, was arrested during a crackdown on human rights lawyers in July 2015. He severely embarrassed the government by releasing a detailed account of how he was tortured in detention, an account that provoked an international outcry. His trial, on a charge of inciting subversion, began Monday.

Under constant pressure from the authorities, Chen fled with their daughters, 15 and 4, to Thailand in February, only to also land in jail. Chinese officials demanded that she be deported to China - but were thwarted when the American diplomats intervened. The two cases took place in the weeks surrounding President Donald Trump's meeting with his Chinese counterpart, Xi Jinping, in Florida, and around the same time as the release of an Egyptian American aid worker, Aya Hijazi, from three years of captivity in Egypt.

"Cleary the administration is putting priority on cases involving U.S. citizens, no question about it," said John Kamm, founder of the Dui Hua Foundation in San Francisco. The group, which works on freeing detainees, gave Tillerson credit earlier for raising the case of Phan-Gillis during a visit to Beijing in March. "Putting Americans first doesn't mean putting other people last, and I hope this effort to help Americans who are in trouble overseas is complemented by concerns for the civil rights and human rights of others," Kamm added.

Questions about the new administration's commitment to human rights emerged after Tillerson failed to attend the launch of the State Department's annual human rights report in early March.
In China, eyebrows were raised when the U.S. Embassy failed to sign a letter from 11 Western countries later that month protesting the alleged torture of human rights lawyers. Ironically, that letter was prompted by what the embassies called "credible claims of torture" of Xie and four other prominent lawyers.

In an apparent bid to pressure Xie to retract his story, his wife Chen said, Chinese authorities constantly followed and watched her, subjected her to long interrogations and threatened her with dismissal from her job as a university lecturer, eviction from her home and expulsion of her children from school. According to detailed account of the escape reported by the Associated Press, Chen, a Christian, contacted Bob Fu, a Christian rights activist based in Texas, who helped her flee the country, traveling in secret by foot and car for five days until they reached Thailand.

But such is China's growing determination to reach beyond its borders in pursuit of dissidents and their families, and so strong is Beijing's growing influence in military-ruled Thailand, that their safe house in Bangkok was not safe for long. On March 2, Thai police, accompanied by an interpreter Chen believes worked for the Chinese Embassy, barged into the house, seized her belongings and sent her to jail, the AP reported.

After a court ruled that she had entered the country illegally, Chen said Chinese agents turned up at the jail demanding that she be sent immediately to China with them.

But, the AP reported, American diplomats turned up in the nick of time, spiriting her out the back door of the jail and to the airport. There, a heated argument ensued over several hours, as China put more pressure on Thai officials to send her to their country. She finally arrived in the United States on March 17 and is rebuilding her life in Texas.

But relatives left behind in China have also faced interrogation and threats, and authorities have emptied her bank accounts, she said. On Monday, her husband appeared in court in the city of Changsha in central China. According to the court, he confessed to the charge, denied he had been tortured, and admitted to being "brainwashed" by Western constitutional thoughts while in Hong Kong and South Korea in order to overthrow Communist Party rule in China.

Chen said her father was detained by police Sunday as he tried to make his way to the trial, while other human rights lawyers were denied entry. Xie's former defense lawyer was also detained for several days last week while on vacation with his family, and Chen said she did not know the two lawyers appointed by the government.

She said their former defense lawyer had heard Xie screaming as he was beaten in jail and seen his head swollen and bleeding. Her husband signed a statement on Jan. 3 saying that if he confessed, it was because he could not stand the torture any more, she noted. "What kind of coercion he went through to say something that is against his will, nobody knows," she said.