---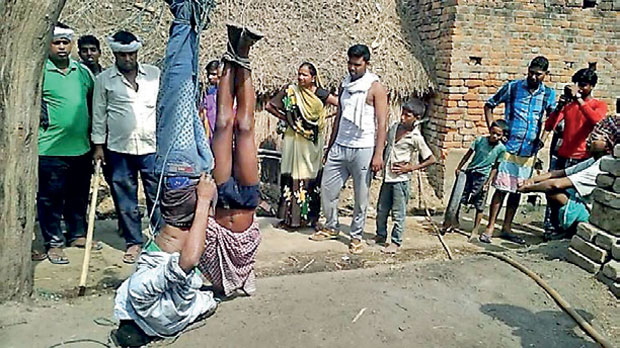 Kaimur, (Hindustan Times) -
Mere suspicion of a petty theft attracted mediaeval punishment for two young men at a village in western Bihar, on Saturday.

The two youths,were tied with ropes ,hung upside down and given a sound thrashing by a group of muscle-wielding men, on a mere suspicion that they had stolen five plastic chairs hired for a wedding ceremony at the village.

The victims, Raj Kumar Bind and Birbal Bind, both in their early 20s, were released hours later and only after their poor families paid Rs 3,000 as compensation to wedding ceremony host Mahangu Bind, for the chairs that had gone missing.

The incident took place at Sonbarsa village under Nuaon police station area of Kaimur district in western Bihar, about 200 km west of state capital, Patna and about 57 km north of the Kaimur district headquarters town of Bhabua.