---
Two-meter-high tsunami waves have crashed through an Indonesian coastal city after a 7.5 magnitude earthquake struck on Friday.
A 6.1 magnitude quake struck Indonesia's densely populated Sulawesi region on Friday morning, quickly followed by even fiercer 7.5 magnitude tremors which caused the tidal wave.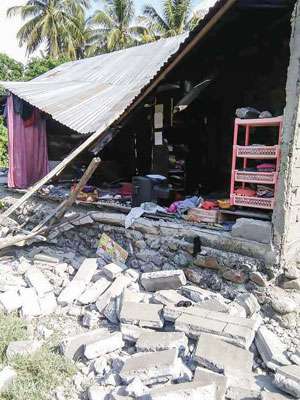 Footage filmed in Palu, Indonesia and posted on Twitter, showed gigantic waves crashing ashore and flooding streets as people scrambled to get away.

Houses have been swept away and people reported missing as the waves struck Palu and another city, Donggala - Indonesian disaster agency spokesman Sutopo Purwo Nugroho confirmed.

Sutopo said communications with the area in central Sulawesi are down and the search and rescue effort is being hampered by darkness.
The Indonesian government caused widespread confusion after issuing a tsunami alert on Friday afternoon, then quickly repealing at 5pm despite the tremors.

Three hours later at 8pm local time a spokesman for Indonesia's geophysics agency confirmed that a tsunami had in fact occurred.

People in Central Sulawesi and West Sulawesi provinces were only then told to evacuate to higher ground.

Sulawesi is the fourth largest Indonesian island and is home to around 18 million people - all of whom have been put on alert following the quake on Friday.

The U.S. Geological Survey put the magnitude of the second quake at a strong 7.5, after first saying it was 7.7.

An earlier 6.1 magnitude quake destroyed some houses, killing one person and injuring at least 10, authorities said.
-Jakarta, (Daily Mail), Sep 28, 2018