---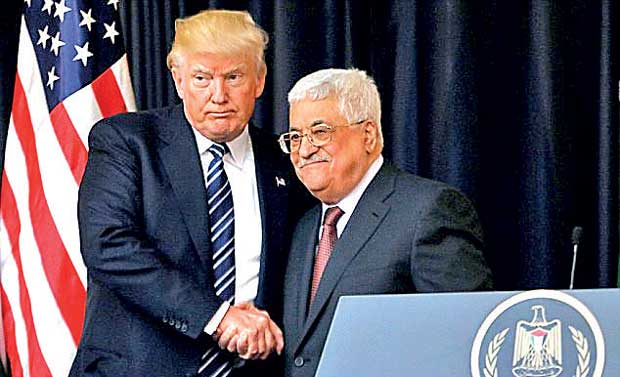 (Daily Mail, London) 23 May 2017 -
Donald Trump made the short trip from Jerusalem to Bethlehem Tuesday to meet Mahmoud Abbas and pitch a 'lasting peace' with Israel.

'President Abbas assures me he is ready to work towards that goal in good faith, and Prime Minister Netanyahu has promised the same,' he announced at the Palestinian Presidential Palace.

Abbas hopes to convince the unpredictable U.S. president to remain committed to an independent Palestinian state as part of those negotiations.

'I am truly hopeful that America can help Israel and the Palestinians forge peace and bring new hope to the region and its people. I also firmly believe that if Israel and the Palestinians can make peace, it will begin a process of peace all throughout the Middle East, and that would be an amazing accomplishment,' he said.

Abbas offered a similar view before Trump spoke, saying through a translator that 'our Palestinian people's attainment of their freedom and independence is key to peace and stability in the world." Abbas reiterated "our commitment to cooperate with you in order to make peace and forge a historic peace deal," but referred to East Jerusalem, where Trump was for part of Monday, as 'occupied' territory.