---
Tokyo (dpa) – US Vice President Mike Pence is set to arrive in Japan on Tuesday to meet Japanese Prime Minister Shinzo Abe amid signs of easing tensions on the Korean Peninsula.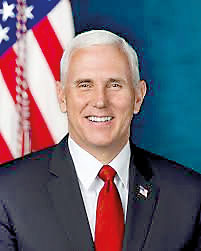 Speaking during a refuelling stop in Alaska, Pence did not rule out the possibility of meeting with North Korean officials during his trip to South Korea to attend the opening ceremony of the Winter Olympics on February 9.

"With regard to any interaction with the North Korean delegation, I have not requested a meeting, but we'll see what happens," the vice president said.

"Let me say President Trump has said he always believes in talking," he added. Pence and Abe are expected to discuss bilateral trade and North Korea's nuclear missile programmes on Wednesday before heading to
South Korea.

The two are likely to agree that the United States and South Korea will conduct a planned joint military drill without scaling it down after the Winter Games, the Kyodo News agency reported, citing an unnamed Japanese government official.