---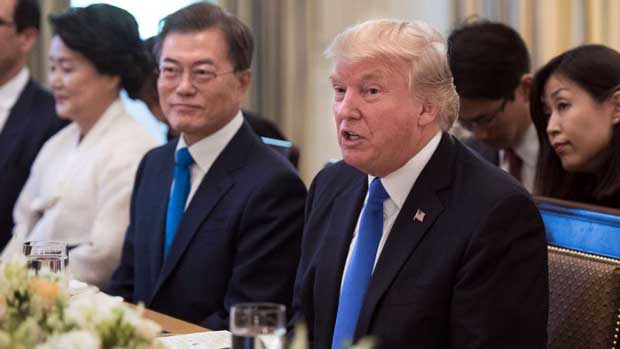 By Shannon Pettypiece, Justin Sink, Kanga Kong · (c) 2017, Bloomberg · July 01, 2017 - South Korea must give U.S. automakers "a fair shake" to sell more cars there and stop exporting "dumped steel," President Donald Trump told his counterpart Moon Jae-in during talks at the White House.

After meeting with Moon on Friday, Trump emphasized he'll press for changes to the current free-trade agreement to reduce the U.S. trade deficit with South Korea. .

Tensions with North Korea also figured in the discussions.

Moon repeated his hope for talks with Pyongyang -- a stance that potentially puts him at odds with Trump.

In a statement on the presidential office website, Moon's presidential policy adviser Jang Ha-sung said the two countries did not agree to a renegotiation of the trade deal, known as KORUS.
In his meeting with Trump, Moon emphasized the deal is a reciprocal one, Jang said.