---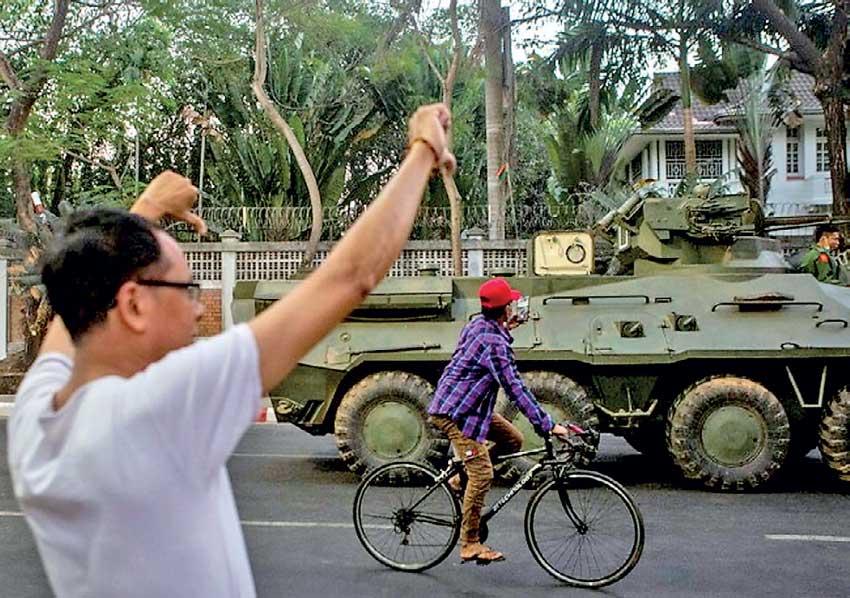 Security forces opened fire on a crowd of demonstrators during peaceful protests against the military coup in Myanmar, videos shared online on Sunday suggest.

Footage on Twitter showed people scattering in panic as police repeatedly shot at protesters during a rally in the city of Myitkyina in northern Myanmar.

It was initially unclear whether there were injuries and whether the shots were made using live ammunition or rubber bullets.

Local journalist Mratt Kyaw Thu and other observers reported that several journalists filming the army's operations had been arrested.

The reports of possible violence came as tens of thousands of people took to the streets across the country for a ninth consecutive day of protests against the military coup.

In the past, the military has repeatedly crushed resistance with brutal violence, but the military has until now largely appeared to be refraining from using lethal force.

Images of the tanks arriving were also circulating online, with newspaper The Irrawaddy reporting the internet was to be blocked overnight on military instructions.

The coup on February 1 followed an election in November 2020 election that the military says was fraudulent.

The army imposed a year-long state of emergency and installed what it claims will be only an interim government before new elections are held. Political leaders including Aung San Suu Kyi were detained in the wake of the coup.
-Bangkok (dpa), 15 february 2021