---
REUTERS, 30th MAY, 2017-South Korean President Moon Jae-in has ordered a probe after the Defence Ministry failed to inform him that four more launchers for the controversial U.S. THAAD anti-missile system had been brought into the country, his spokesman said on Tuesday.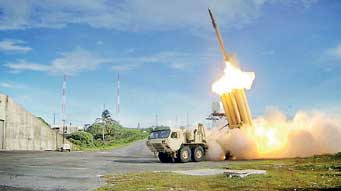 The Terminal High Altitude Area Defence (THAAD) system battery was initially deployed in March in the southeastern region of Seongju with just two of its maximum load of six launchers to counter a growing North Korean missile threat.

During his successful campaign for the May 9 presidential election, Moon called for a parliamentary review of the system, whose deployment has also infuriated China, North Korea's lone major ally.