---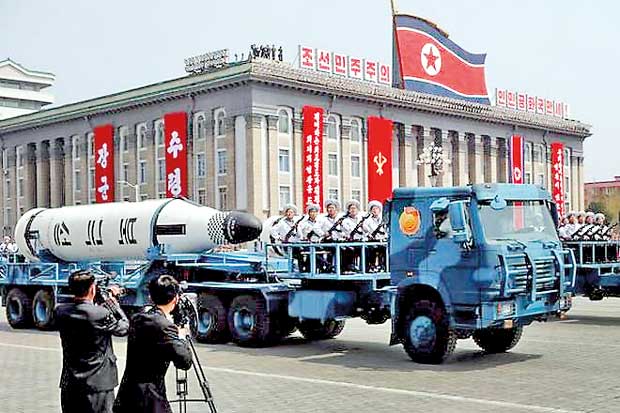 North Korea held a military parade and rally on Kim Il Sung Square on Thursday, just one day before South Korea holds the opening ceremony for the Pyeongchang Winter Olympics.

More than 10,000 troops trained for the parade at a military airfield for several weeks and residents had practiced in plazas around the North Korean capital with bouquets of plastic flowers to spell out slogans during the parade.

A South Korean government official said tens of thousands of people participated or watched the parade on Thursday morning in Pyongyang. It wasn't clear if Kim Jong Un spoke during the event, as he has on previous prominent national events.

The South Korean official also says it wasn't immediately clear whether North Korea displayed strategic weapons such as intercontinental ballistic missiles during the parade. The official didn't want to be named, citing office rules.

The North had said the parade and rally would mark the 70th anniversary of the founding of its military.

Feb. 8 has been seen as a less important founding anniversary but was elevated this year in part because it is the 70th a nice round number.

But the Olympics undoubtedly weighed heavily in the decision to elevate the occasion, and North Korean leader Kim Jong Un is going out of his way to make sure the North will hold attention throughout the games.

Following a last-minute proposal during Mr. Kim's annual New Year's address, North Korea is sending 22 athletes to compete and a delegation of more than 400 musicians, singers, martial artists and cheering squads to the games.

Mr. Kim is also dispatching his younger sister, Kim Yo Jong, to attend the opening ceremony. That in itself is a major development she is one of his closest confidants, holds a senior party position and her trip will mark the first time any member of the ruling Kim family has visited the South since the Korean War.
THE HINDU, 08th FEBRUARY, 2018