---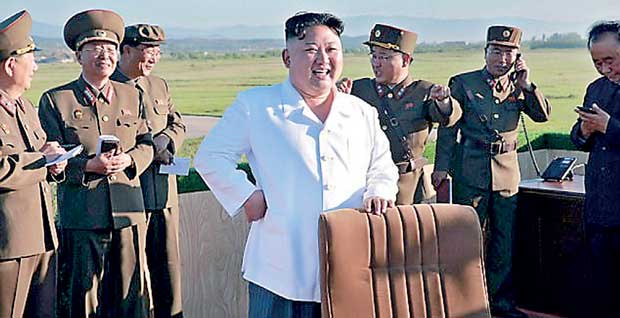 North Korea test-fired a missile Monday into Japan's maritime economic zone -- the latest in a series of provocative launches that have ratcheted up tensions over its nuclear weapons ambitions.

It was the North's third ballistic missile test in as many weeks and the 12th this year -- carried out in defiance of UN sanctions warnings and US threats of possible military action.

US military monitors said the short-range missile flew for six minutes, while Japan said it fell into the country's exclusive economic zone (EEZ) -- waters extending 200 nautical miles from its coast.

The launch comes in fresh defiance of tough talk from US President Donald Trump, who promised last week at the G7 summit that the "big problem" of North Korea "will be solved".

The latest, a short-range Scud, flew about 450 kilometres (280 miles) before landing in the Sea of Japan (East Sea) between the Korean peninsula and Japan, the US Pacific Command said.
Monday's test also marked the second time this year that a North Korean missile fell provocatively close to its neighbour Japan.

It emerged North Korean leader Kim Jong Un supervised the test of a new anti-aircraft weapon system and ordered its mass production and deployment throughout the country, after weeks of defiant ballistic missile tests.

North's KCNA news agency did not report the exact nature of the weapon or the time of the test but said it was organised by the Academy of National Defence Science (ANDS).

SEOUL (AFP/Daily Mail), May 29, 2017