---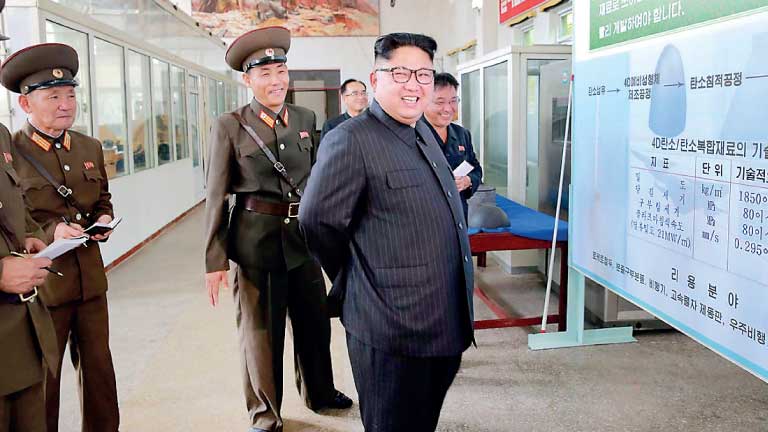 Kim Jong Un.
North Korean leader Kim Jong Un ordered the production of more solid-fuel rocket engines and rocket warhead tips, the North's official media said on Wednesday in a report otherwise lacking threats against Washington after weeks of heightened tension.

A report about Kim's visit to a chemical institute came not long after U.S. Secretary of State Rex Tillerson appeared to make a peace overture to Pyongyang, welcoming what he called the recent restraint shown by the reclusive North.

U.S. President Donald Trump also expressed cautious optimism about a possible improvement in relations with the North, after months of mounting tension over its weapons programs.

Kim was briefed about the process of manufacturing intercontinental ballistic missile warhead tips and solid-fuel rocket engines during his tour of the Chemical Material Institute of the Academy of Defence Science, the North's official KCNA news agency said.

"He instructed the institute to produce more solid-fuel rocket engines and rocket warhead tips by further expanding engine production process and the production capacity of rocket warhead tips and engine jets by carbon/carbon compound material," KCNA said.

North Korea has conducted two nuclear tests and dozens of missile tests since the start of last year, significantly raising tensions on the heavily militarized Korean peninsula. Two tests of intercontinental ballistic missiles in July resulted in a new round of tougher global sanctions.

-REUTERS