---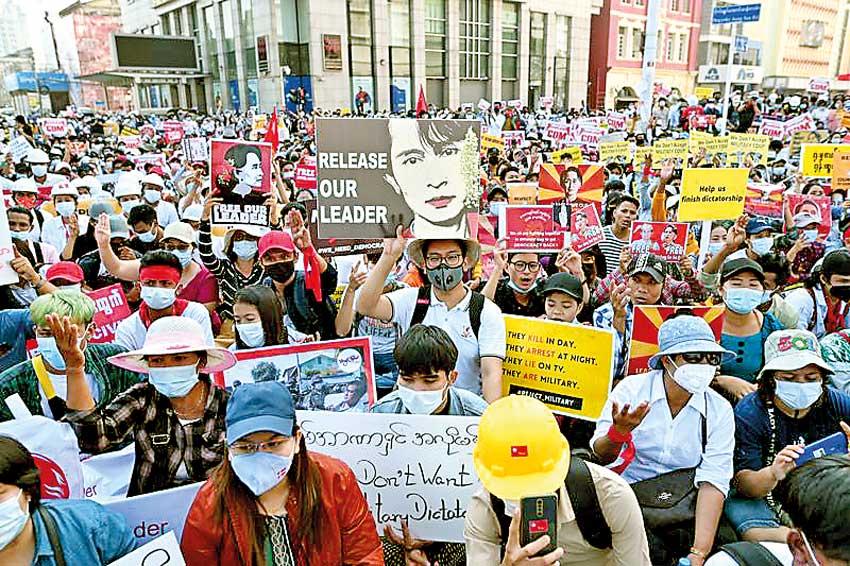 Hundreds of thousands of people marched in Myanmar on Wednesday, rejecting the army's assertion that the public supported its overthrow of elected leader Aung San Suu Kyi and vowing they would not be cowed in their bid to end military rule.

Opponents of the Feb. 1 military coup are deeply sceptical of junta assurances, given at a news conference on Tuesday, that there would be a fair election and that it would hand over power, even as police filed an additional charge against Suu Kyi.

"We love democracy and hate the junta," Sithu Maung, an elected member of Suu Kyi's National League for Democracy (NLD), told tens of thousands of people at the Sule Pagoda, a central protest site in the main city of Yangon.

"We must be the last generation to experience a coup."

Protests in cities across the Southeast Asian country were some of the biggest since daily demonstrations began on Feb. 6 to denounce the coup that halted an unsteady transition to democracy from half a century of army rule and isolation. Brigadier General Zaw Min Tun, spokesman for the ruling council, told the Tuesday news conference that the army would not be in power for long and that 40 million of Myanmar's 53 million population supported the coup.

Sithu Maung poked fun at that, saying: "We're showing here that we're not in that 40 million."

As well as the demonstrations across the ethnically diverse country, a civil disobedience movement has brought strikes that are crippling many functions of government.

The army announced on Wednesday that police complaints had been filed against six local celebrities under an anti-incitement law for encouraging civil servants to join in the protest. The charges can carry a two-year prison sentence.
REUTERS, 17TH FEBRUARY, 2021