---
FRANKFURT MAIN AFP May28, 2017- Europe "must take its fate into its own hands" faced with a western alliance divided by Brexit and Donald Trump's presidency, German Chancellor Angela Merkel said Sunday.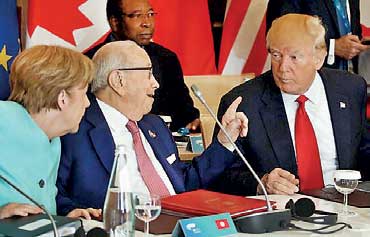 "The times in which we could completely depend on others are on the way out. I've experienced that in the last few days," Merkel told a crowd at an election rally in Munich, southern Germany.

"We Europeans truly have to take our fate into our own hands," she added. While Germany and Europe would strive to remain on good terms with America and Britain, "we have to fight for our own destiny", Merkel went on. Special emphasis was needed on warm relations between Berlin and newly-elected French President Emmanuel Macron, she said.

The chancellor had just returned from a G7 summit which wound up Saturday without a deal between the US and the other six major advanced nations on upholding the 2015 Paris climate accords. Merkel on Saturday labelled the result of the "six against one" discussion "very difficult, not to say very unsatisfactory". Sunday's event saw Merkel renew bonds with the Christian Social Union (CSU), Bavarian sister party to her own centre-right Christian Democratic Union (CDU), ahead of a parliamentary vote in September.