---
REUTERS, 28th MAY, 2017-British Prime Minister Theresa May's lead over the opposition Labour Party has narrowed sharply, according to opinion polls published since the Manchester attack, suggesting she might not win the landslide predicted just a month ago.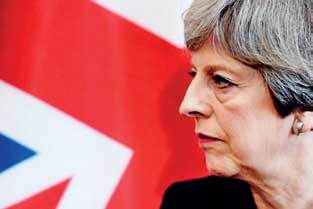 Four polls published on Saturday showed that May's lead had contracted by a range of 2 to 6 percentage points, indicating the June 8 election could be much tighter than initially thought when she called the snap vote.

"Theresa May is certainly the overwhelming favorite to win but crucially we are in the territory now where how well she is going to win is uncertain," John Curtice, professor of politics at the University of Strathclyde, told Reuters.

"She is no longer guaranteed to get the landslide majority that she was originally setting out to get," said Curtice, a leading psephologist who is president of the British Polling Council. May called the snap election in a bid to strengthen her hand in negotiations on Britain's exit from the European Union, to win more time to deal with the impact of the divorce and to strengthen her grip on the Conservative Party.

But if she does not handsomely beat the 12-seat majority her predecessor David Cameron won in 2015, her electoral gamble will have failed and her authority could be undermined just as she enters formal Brexit negotiations.

Sterling on Friday suffered its steepest fall since January after a YouGov opinion poll showed the lead of May's Conservatives over Labour was down to 5 percentage points.