---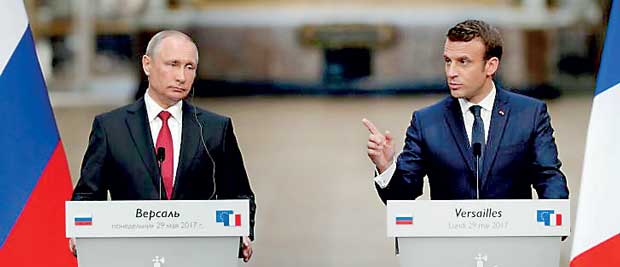 REUTERS, 30th MAY, 2017
French President Emmanuel Macron rolled out the red carpet for Russia's Vladimir Putin on Monday, but past suspicions of Russian meddling in the French election resurfaced with Macron denouncing Russian media and Putin denying hacking allegations.

The newly elected Macron hosted Putin at the sumptuous 17th century palace of Versailles outside Paris for his first meeting with the Kremlin leader which he had earlier said would be marked by some straight talking.

The 39-year-old French leader and Putin exchanged a cordial, businesslike handshake and smiles when the latter stepped from his limousine, with Macron appearing to say "welcome" to him in French.
When they emerged from talks, which went on for almost an hour longer than scheduled, Macron said they had had a "frank exchange" and both men stressed they had agreed on the need to move forward on divisive issues such as Syria and Ukraine.

But at a joint news conference after their talks, ill-feeling came to the surface over past allegations made by Macron's camp that state-funded Russian news outlets had sought to destabilise his campaign.