---
London, (Daily Mail), 20 June 2017 - The Cabinet has broken out into infighting over who should take over as Tory Party with friends of Boris Johnson branding David Davis too old for the top job.
The 68 year-old Brexit Secretary has been tipped to succeed Theresa May if she suddenly quits or is ousted from office.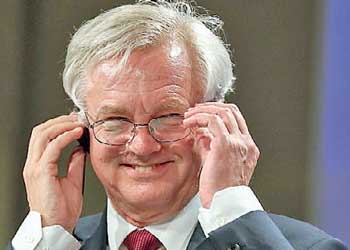 But allies of Mr Johnson have questioned if Mr Davis is the right man for the job amid continued speculation the former London Mayor is plotting to launch his own leadership bid.

However, Mr Johnson's leadership hopes may be dealt a fatal blow by boundary changes which are predicted to wipe out his majority and hand his constituency to Labour.Under the changes,combined with the 'Corbyn surge' will see his majority of around 5,000 wiped out and replaced with a Labour majority of over 1,000, according to analysis by Martin Baxter on the Electoral Calculus website.
Friends of Mr Johnson talked down prospects of Mr Davis mounting a leadership bid and accused him of being instrumental in pushing Mrs May into holding the disastrous General Election.

Mrs May's leadership continues to dangle by a thread after she led her party to humiliation at the election.Mrs May has also still not brokered a deal even though the Queen's Speech - which sets out the government's laws for the coming parliament - will take place tomorrow.