---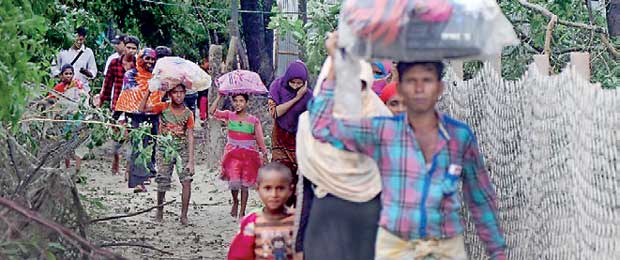 REUTERS, 30th MAY, 2017- Cyclone Mora battered Bangladesh on Tuesday, killing five people, damaging thousands of homes and ripping through a camp housing thousands of Rohingya refugees who had fled violence in Myanmar.

Authorities said they evacuated nearly 600,000 people from vulnerable areas before the storm hit the coastal district of Cox's Bazar early Tuesday, bringing winds of up to 135 kilometres (84 miles) per hour.

Disaster management authorities told AFP five people had been killed, four of them crushed by falling trees in the area. It was not immediately clear how the fifth person died. Authorities in Cox's Bazar said at least 17,000 homes, excluding the Rohingya shelters, had been damaged in the district, with many low-lying villages inundated by a storm surge reaching four feet (1.3 metres). Some of the worst damages were at the camps housing the 300,000 Rohingya refugees living in Cox's Bazar, many of them in flimsy huts. The local head of the International Organisation for Migration, which coordinates relief for the refugees, said the bulk of the homes at one camp had their roofs blown off.
"We're already in the field. At Kutupalong camp, which I am visiting now, some 60-70 percent of the plastic roofs have been blown away.

''Some mud walls have collapsed," Sanjukta Sahany told AFP by phone.