---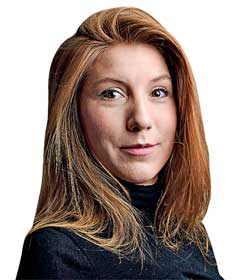 DPA, 23rd AUGUST, 2017- Human remains found in waters off the coast of Copenhagen are those of missing Swedish reporter Kim Wall, Danish police confirmed on Wednesday.

DNA tests showed that the torso of a woman found on Monday was a match with Wall, Copenhagen police said on Twitter.

Wall, 30, was last seen on the evening of August 10 on the amateur-built Danish submarine belonging to Peter Madsen as it left Copenhagen harbour.

Jens Moller Jensen of the Copenhagen police, who is leading the probe, said Tuesday the limbs and head were "deliberately cut off."

Copenhagen police said a news conference was scheduled for 9am (0700 GMT) on Wednesday where more details would be provided.

Madsen has said she died after an "accident" on board.

Madsen, owner and designer of the 18-metre submarine, is suspected of manslaughter in connection with Wall's disappearance. Madsen was remanded in pre-trial detention on August 12 at a closed door hearing.

Wall, a freelancer, was reportedly writing an article on Madsen at the time of her disappearance.

Madsen is also known for designing rockets, a hobby that earned him the nickname "Rocket Madsen" in Danish media. A large search operation has continued near the location where the remains were spotted Monday, including divers and on the shoreline.