---
AFP MARAWI, Philippines, May29, 2017- Security forces traded heavy gunfire with Islamist militants inside a southern Philippine city Monday, as fears grew for up to 2,000 people unable to escape a week of fighting that has left women and children among the dead.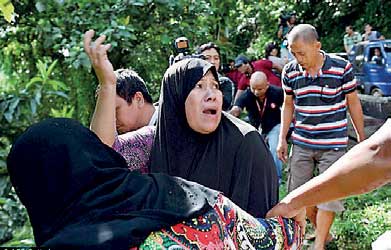 President Rodrigo Duterte imposed martial law across the southern third of the Philippines shortly after the fighting erupted, warning the gunmen were involved in an effort by the Islamic State group to set up a local caliphate.

But street-to-street battles and a relentless military bombing campaign has so far failed to end the crisis in Marawi, one of the biggest Muslim cities in the mainly Catholic Philippines, and authorities expressed alarm about the fate of those trapped.

"They are texting us and calling us for help," Zia Alonto Adiong, spokesman for the provincial crisis management committee, said of the 2,000 people his office had recorded being unable to leave areas held by the militants.