---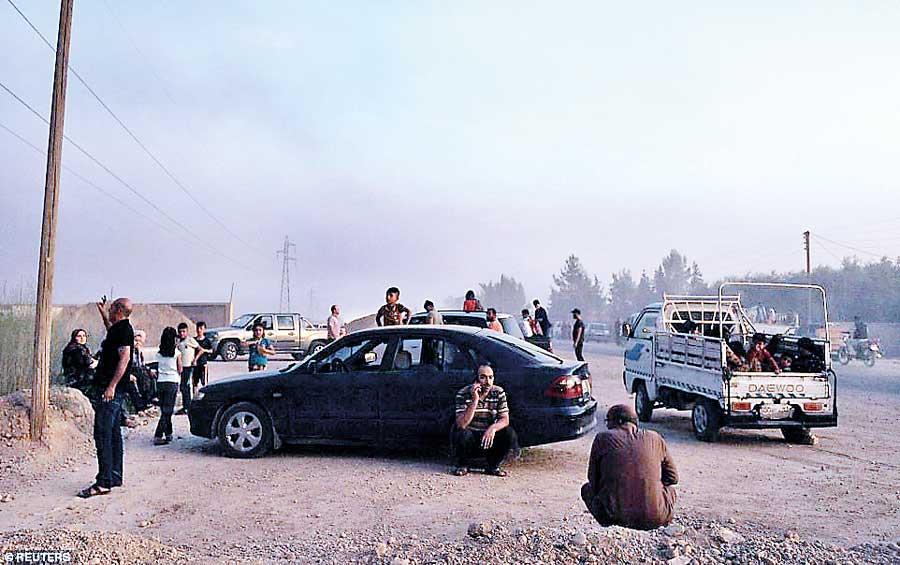 Turkey says it intends to create a 'safe zone' over an area about 30 miles deep and 75 miles wide to push Kurdish militia away from its border on Wednesday (DM)
Turkey's President Recep Tayyip Erdogan has threatened Europe he will send 3.6 million refugees to the continent if the invasion of Syria is defined as an occupation.

'Hey EU, wake up. I say it again: if you try to frame our operation there as an invasion, our task is simple: we will open the doors and send 3.6 million migrants to you,' Erdogan said in a speech to parliament.

Turkey's military offensive on northeastern Syria has displaced more than 60,000 people in less than a day, a war monitor said Thursday.

"Since Wednesday, more than 60,000 people fled border areas," the Syrian Observatory for Human Rights said, adding that most of the displaced travelled east towards the city of Hasakeh.

Rami Abdel Rahman, the head of the Britain-based monitor, said the biggest displacement was from the border areas of Ras al-Ain, Tal Abyad
and Derbasiyeh.

The Turkish military, supported by Syrian proxies, launched an offensive against Kurdish-controlled areas in northeastern Syria on Wednesday, despite widespread international warnings.
After an initial phase of air strikes and artillery fire, troops moved across the border and attacked some of the key towns in the area.The invasion has been widely condemned with European leaders warning Erdogan he risked exacerbating suffering in the war-ravaged region.Turkey says it intends to create a 'safe zone' over an area about 30 miles deep and 75 miles wide to push Kurdish militia away from its border.
Turkey, (Compiled from Daily Mail and AFP), 10 October 2019