---
China, (Daily Mail), 18 May 2017 - Beijing has unveiled a homegrown combat chopper that's said to be capable of destroying the most powerful tank in the world.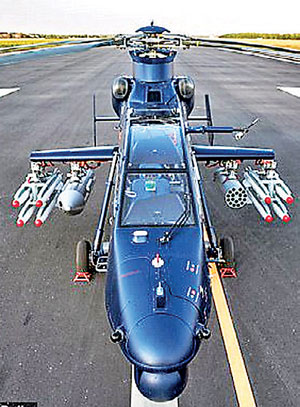 Two-seat Z-19E, also known as 'Black Hurricane', is built to cater to the international market as Beijing aims to expand its presence in the global market for military aircraft.

Chinese state media claimed that the single-rotor, narrow-body aircraft is one of the most advanced helicopters of its kind worldwide. The light attack helicopter debuted to the public in September, 2015, and made its maiden flight today in Harbin, north-east China, according to People's Daily Online.
The aircraft is expected to perform air-to-ground strikes, air-to-ground fire support and air-to-air combat in complicated weather conditions.

The newspaper claimed it has 'excellent combat abilities.

The helicopter is said to feature a multiple rocket launcher, which could fire more than a dozen rockets at the same time.