---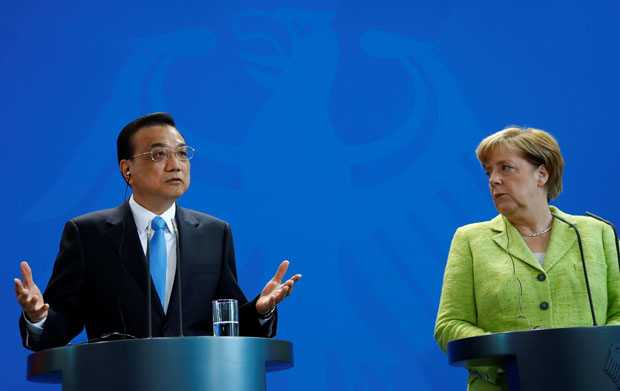 By Marine Strauss, Nikos Chrysoloras, Patrick Donahue
(c) 2017, Bloomberg · Jun 01, 2017 - Chinese Premier Li Keqiang said the world's No. 1 polluter will stick to its pledges to tackle global warming, underscoring the risk of U.S. isolation if President Donald Trump pulls out of the Paris climate accord.

Li made his comments during a joint press conference with German Chancellor Angela Merkel, at which both leaders stressed the importance of promoting free trade allied to low-carbon, sustainable economic growth.

China accepts its international responsibility and is ready to steer the world toward green growth, Li said in Berlin through an interpreter. "In sum, China will honour its commitments in the framework of the Paris climate protection agreement," he said.

Li was speaking ahead of a two-day summit that begins in Brussels later on Thursday, when China and the European Union will re-commit to free trade and the Paris Agreement in a sweeping rejection of Trump's protectionist policies. Trump said on Twitter that he'll make an announcement on whether to stay in the climate accord at 3 p.m. in Washington.

Trump is pulling the U.S. out of the climate-change agreement after other Group of Seven leaders failed to win him over at a summit in Italy last week. The discord prompted Merkel to suggest the U.S. had become an unreliable partner.