---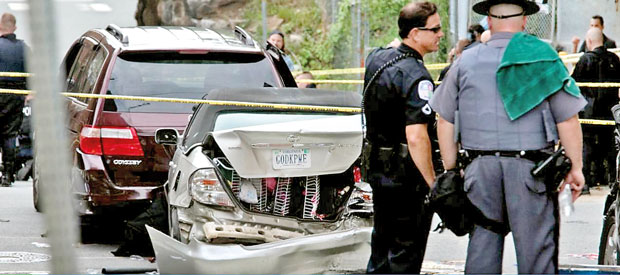 By Joe Heim, Ellie Silverman, T. Rees Shapiro, Emma Brown
CHARLOTTESVILLE, Va. -
Chaos and violence turned to tragedy Saturday as hundreds of white nationalists, neo-Nazis and Ku Klux Klan members - planning to stage what they described as their largest rally in decades to "take America back" - clashed with counter-protesters in the streets and a car plowed into crowds, leaving one person dead and 19 others injured.

Hours later, two state police officers died when their helicopter crashed at the outskirts of town.
Gov. Terry McAuliffe (D), who had declared a state of emergency in the morning, said at an evening news conference that he had a message for "all the white supremacists and the Nazis who came into Charlottesville today: Go home. You are not wanted in this great commonwealth."

State and local officials declined to take reporters' questions and abruptly left after making statements.
Video recorded at the scene of the car crash shows a 2010 gray Dodge Challenger accelerating into crowds on a pedestrian mall, sending bodies flying - and then reversing at high speed, hitting yet more people. Witnesses said the street was filled with people opposed to the white nationalists who had come to town bearing Confederate flags and anti- Semitic epithets.

A 32-year-old woman was killed, according to police, who said they were investigating the crash as a criminal homicide.

The driver of the Challenger, James Alex Fields Jr., 20, of Ohio, was arrested and charged with one count of second-degree murder, three counts of malicious wounding, and one count of hit-and-run attempted failure to stop with injury, police said. He is being held without bail and is scheduled to be arraigned Monday, Albemarle-Charlottesville Regional Jail Superintendent Martin Kumer said.
(c) 2017, The Washington Post ·Aug 13, 2017 -