---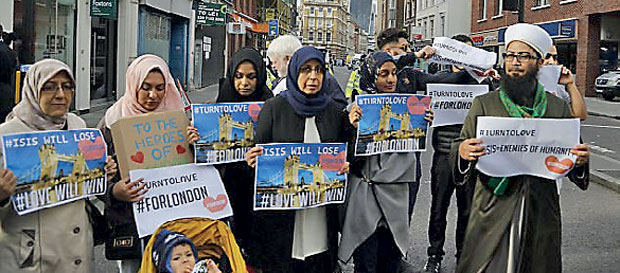 (Daily Mail), 6 June 2017 -
CNN has denied online claims that it 'set up' a counter-extremism demonstration behind one of its reporters. A group from the London Fatwa Council came to the police cordon near the London Bridge terror attacks with banners proclaiming 'ISIS will lose' yesterday afternoon.

But a video which emerged of the group apparently being positioned by TV reporters led to claims online that the channel was 'creating a narrative'.

The video shows the group being ushered past the media and positioned so that cameras can see them.

Reporter Becky Anderson mentioned the protesters' signs in her news report on the terror attack.She said: 'Behind me you can see a sign here, hashtag 'turn to love'', hashtag 'for London', hashtag 'ISIS will lose', and flowers left in remembrance of those who left their lives.'